Hardstaff Booking Agency presents:
Pallbearer + Elder + Irist dal vivo al Bloom di Mezzago
Pallbearer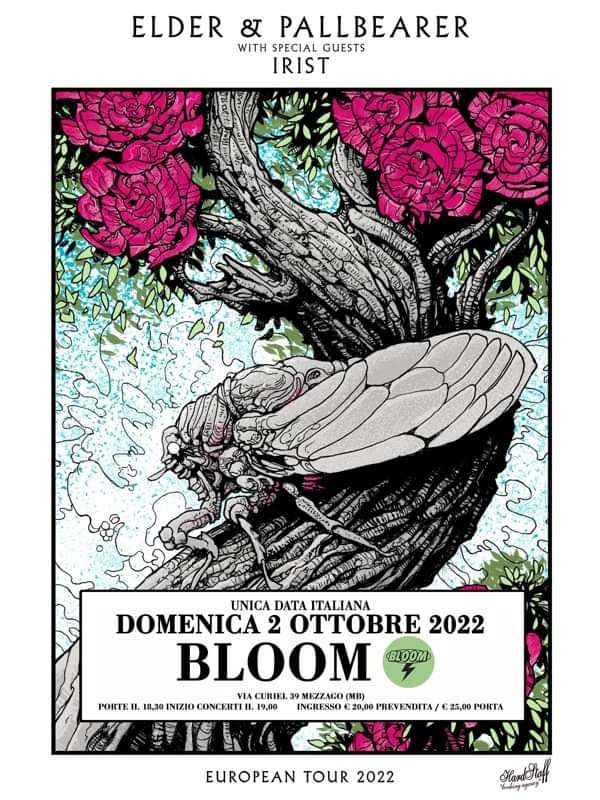 Un data che aspettavamo da tempo al Bloom di Mezzgo per finalmente sentire dal vivo i dischi nuovi di Pallbearer e Elder, accompagnati dalla sorpresa Irist.
Line Up
Pallbearer emerged from Little Rock, Arkansas in 2012 with a stunning debut full-length, Sorrow and Extinction. The record, which played like a seamless 49-minute doom movement, melded pitch-perfect vintage sounds with a triumphant modern sensibility that made songs about death and loss feel joyfully ecstatic. Pallbearer possessed what many other newer metal groups didn't: perfect guitar tone, classic hooks, and a singer who could actually sing.
For their 2014 followup, Foundations of Burden, the band worked with legendary Bay Area producer Billy Anderson (Sleep, Swans, Neurosis) for an expansive album that was musically tighter and especially adventurous. Armed with a more technical drummer, Mark Lierly, Foundations feels like it was built for larger shared spaces—you could imagine these songs ringing off the walls of a stadium. It was a hint of things to come. While the debut earned the band a Best New Music nod from Pitchfork and rightly landed the band on year-end lists at places like SPIN and NPR, along with the usual metal publications, Foundations of Burden charted on the Billboard Top 100 and earned the band album of the year from Decibel and spots on year-end lists for NPR and Rolling Stone.
Returning to where it all began, the quartet recorded their third full-length, Heartless on their own in Arkansas, and it's grander in scope, showcasing a natural progression that melds higher technicality and more ambitious structures with their most immediate hooks to date. The collection, which follows the 3-song Fear & Fury EP from earlier this year, was captured entirely on analog tape at Fellowship Hall Sound in Little Rock this past summer and then mixed by Joe Barresi (Queens of the Stone Age, Tool, Melvins, Soundgarden).
From the gloriously complex, sky-lit opener "I Saw the End" to the earth-shaking (and heartbreaking) 13-minute closer "A Plea for Understanding," the entire group puts forth the full realization of their vision: More than a doom band, Pallbearer is a rock group with a singular songwriting talent and emotional capacity. Heartless finds the group putting forth their strongest individual efforts to date: Campbell and Rowland, along with guitarist/vocalist Devin Holt and drummer Mark Lierly, turn in peak marathon performances. Both Campbell and Rowland also handle synthesizers alongside their normal duties, and there are plenty of gently strummed acoustic guitars amid the crunchy electric ones, adding a moody, ethereal spareness to the towering metal. The almost 12-minute "Dancing in Madness" opens with dark post-rock ambience and moves toward emotional blues before exploding into a sludgy psychedelic anthem. A number of the seven songs feature a humid rock swagger.
By fusing their widest musical palette to date, Pallbearer make the kind of heavy rock (the heavy moments are heavy) that will appeal to diehards, but could also find the group crossing over into newer territories and fanbases. After having helped revitalize doom metal, it almost feels like they've gone and set their sights on rock and roll itself. Which doesn't seem at all impossible on the back of a record like Heartless.
View Profile