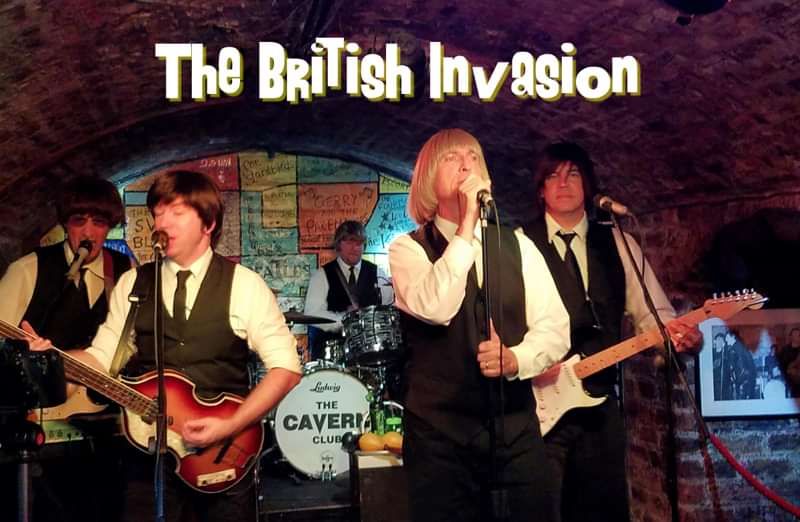 Half Moon presents:
The British Invasion
The British Invasion
£10 adv / £12 on door
Entry Requirements: 18+ after 7pm
The British Invasion
"The Ultimate Tribute To 60's British Rock"
The British Invasion describes a time in the 1960s when audiences all across America were singing and dancing to music from across the Atlantic. It began with the arrival of The Beatles in America in February 1964, and continued for several years as British bands dominated the music scene.
Now this era has been recreated with amazing accuracy and excitement…
The musical group known as THE BRITISH INVASION hails from Central Ohio in the U.S.A, and covers the music from all of the English groups. From The Animals to The Zombies, it's all here: The Beatles, The Rolling Stones, The Kinks, The Who, The Dave Clark Five, The Hollies, Herman's Hermits, The Searchers, and more…
Everything has been faithfully reproduced to exact detail, from the music, clothing, and hairstyles, to the vintage guitars and equipment.
Members of THE BRITISH INVASION have performed to enthusiastic audiences all over the United States, as well as in Manchester, Liverpool, and London England, the birthplace of The British Invasion. THE BRITISH INVASION has performed at legendary venues, such as The Cavern Club and The Casbah in Liverpool, England, The Manchester United F.C. Trafford Stadium in Manchester, England, and The Crawdaddy Club and The Half Moon in London, England!
THE BRITISH INVASION has shared stages with Rock and Roll Hall of Fame Member Terry Sylvester of The Hollies, Joey Molland of Badfinger, The Cyrkle, Peter Noone of Herman's Hermits, Mike Berry "The British Buddy Holly" (who also played Bert Spooner on the British television show Are You Being Served?). THE BRITISH INVASION has also performed shows with Bo Donaldson and The Heywoods, Joe Vitale (touring drummer for Crosby, Stills & Nash and Joe Walsh's Barnstorm), Freddie Salem of The Outlaws, and legendary rocker Jack Scott.
THE BRITISH INVASION even performed for the host of American Bandstand, the legendary Dick Clark!
Join THE BRITISH INVASION on this musical journey as they travel through time complete with outfit changes representing each era.
As you listen to these hits from the past, it is likely you will believe that they are being played and sung by the original artists themselves. So, if you love the music of this era, or just want to experience for yourself what all the excitement was and is about, this is the show for you!
The British Invasion is available for concerts, community events, corporate events, private events and parties.
This is much more than a Beatles tribute… It's a MAGICAL MUSICAL TOUR . . ."A Splendid Time is Guaranteed for All".