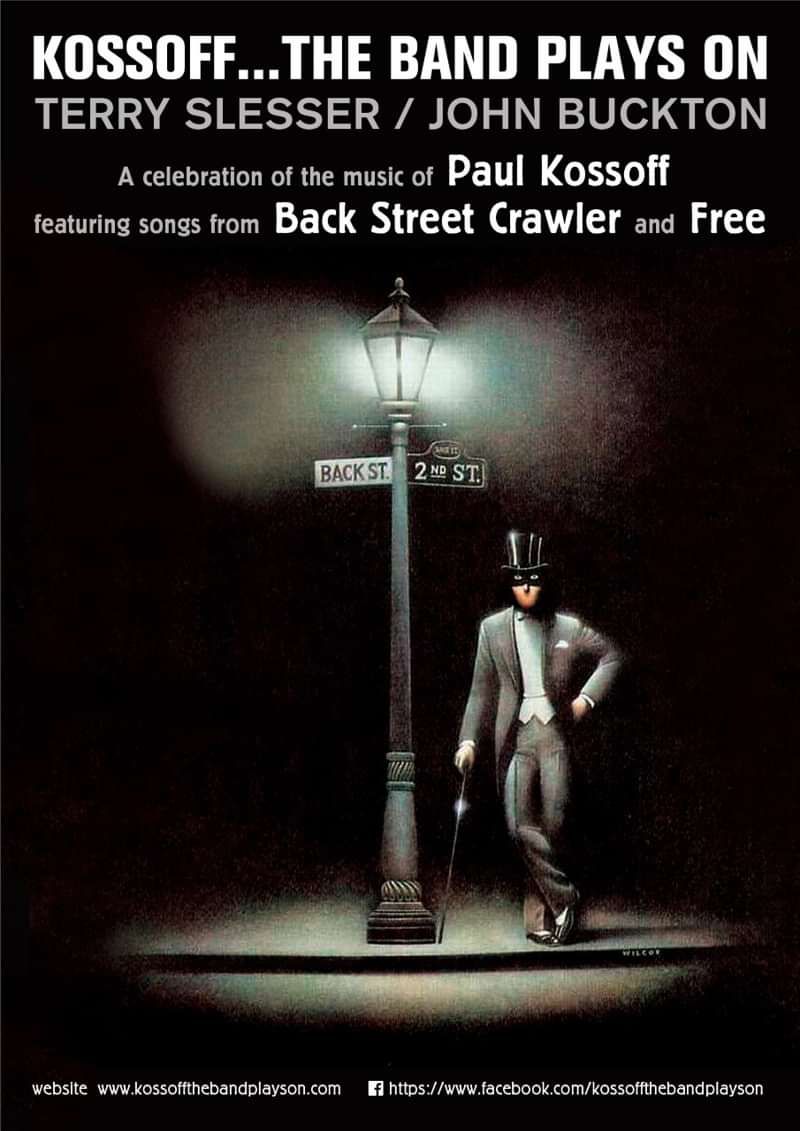 Half Moon presents:
Kossoff: The Band Plays On
Kossoff
£18 Early Bird / £20 Door
Entry Requirements: 18+ after 7pm
THE stunning blues-rock music of Paul Kossoff, the lead guitar prodigy whose soaring playing lit up 1970s rockers Free, is coming back to The Half Moon, Putney.
Kossoff, of course, died tragically young after a drugs battle aged just 25, but his music lives on with The Band Plays On, a band featuring Terry Slesser, the lead vocalist of Kossoff's post-Free band, Back Street Crawler.
The Band Plays On play The Half Moon, Putney and will feature the very best of Free's back catalogue and also Back Street Crawler's two-album sojourn. The band's name is fittingly also the name of BSC's first album with Kossoff from 1975.
Highlights include Free's world-wide hit and rock anthem "All Right Now", "Fire and Water", crowd pleaser "The Hunter" and "Molten Gold", one of the first tracks Slesser and Kossoff played together with Back Street Crawler.
Line Up
Renowned vocalist Terry Slesser has put together a fine ensemble of high-calibre musicians to pay tribute to the legendary guitarist Paul Kossoff (best known for one of the most memorable guitar solos of all time featured on Free's classic hit All Right Now).
Billed as 'Kossoff - The Band Plays On', this is not a covers band or 'tribute' act as Terry performed alongside Kossoff in post-Free outfit Back Street Crawler.
This new series of dates will feature rarely-played highlights from the Back Street Crawleralbum Second Street alongside other numbers from Back Street Crawler's back catalogue (and of course some choice Free tracks).
Frontman Terry Slesser sure knows how to captivate an audience. Aside from his amazing vocal ability (the reason Kossoff chose Terry to to front his band), he's got some seriously entertaining anecdotes in his armoury which are all delivered with style and panache.
This is a revealing insight into songwriting, recording and life on (and off!) the road. Terry's shared experiences of working, touring and living with Koss truly differentiate this show from being a mere tribute act.
Guitarist John Buckton has the Kossoff sound down to an absolute tee and that's no huge surprise when you consider that Free drummer Simon Kirke has said:..
"If Free were to reform, John would be my first choice as guitarist."
Buckton, has captured the soul and rawness of Koss' playing.
Paul Kossoff had his own unique style and it lives on in John Bucktons' fretboard.
Also included in the line-up is powerhouse drummer Clive Edwards formerly of UFO, Wild Horses (alongside Thin Lizzy guitarist Brian Robertson and Rainbow bassist Jimmy Bain), Uli Jon Roth Band and the Pat Travers Band .
The line up is completed with highly revered keyboard player Mark Taylor (Simple Minds, The Alarm , Elton John) and the inimitable John 'Rhino' Edwards (Status Quo) on bass guitar.
Paul Kossoff was revered by music fans and fellow musicians alike and his personality shone through his performances.
All of this is brought to life in a show of sheer quality which pays homage to the highly talented and much missed guitarist.