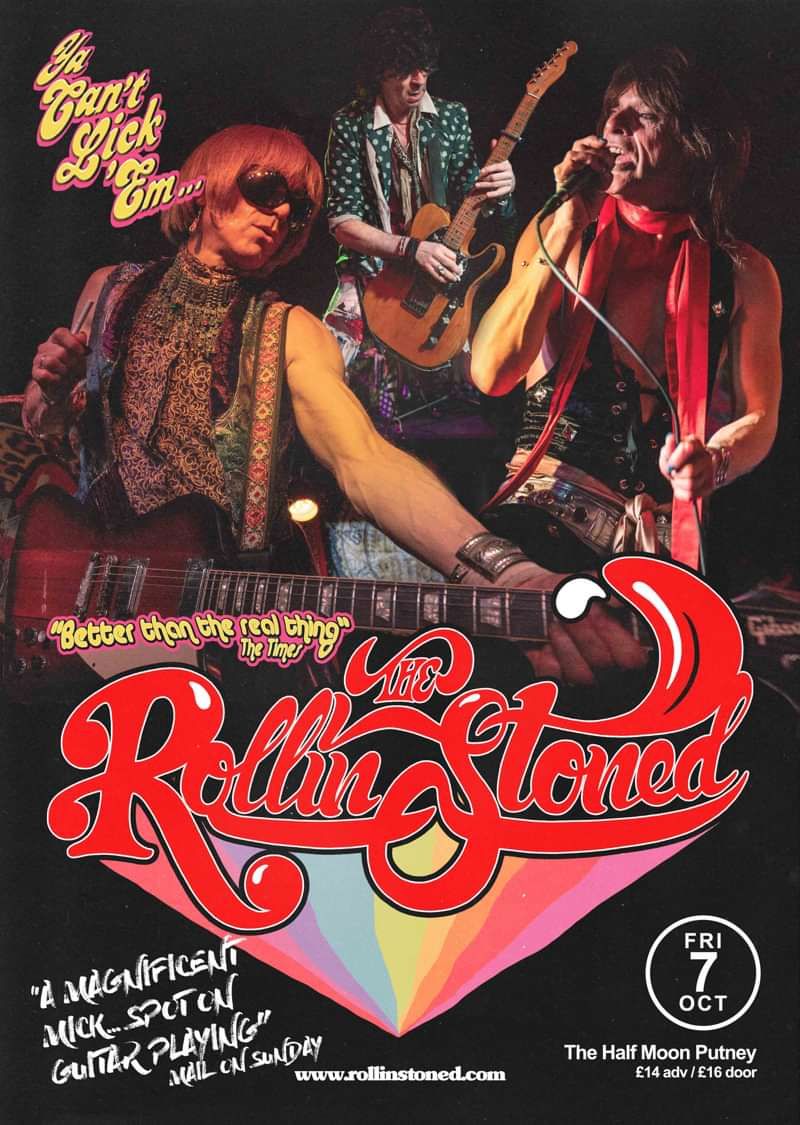 Half Moon presents:
The Rollin Stoned
The Rollin' Stoned
SOLD OUT
Entry Requirements: 18+ after 7pm
Line Up
A Rock'n'Roll Circus is coming to town.. ...everything seems to be ready.... ...is everyone ready?
A tribute to The Rolling Stones focusing on the early part of their career from 1964 - 1969 including 'Jumping Jack Flash', 'Paint It Black', 'Not Fade Away' and 'Satisfaction'.
They have been described by The Times as 'better than the real thing' and have been revered by both Stones fans for their authenticity and the real Stones who booked them for the band's birthday.
With a Rollin Stoned show, the costumes are shamelessly camp gaudy and fab, the instruments genuinely vintage and the wit irreverent. However while the tongue is never far from the cheek we make sure it is never to the detriment of the music.
A typical two hour show includes not only all the classic crowd pleasing hits, but is spiced with enough eclectic selections from the deeper recesses of Stones Album archives to satisfy the most demanding of "Buffs", all performed with the same vibrantly authentic attack and raw energy that characterised the original Stones shows in their prime.
For those who witnessed the Stones - Brian Jones et al - in their hey Day, this is a chance to revisit lost youth, for the rest of you, now's your chance to see what all the fuss was about. Named "Best Tribute Band" in the UK by The Stage Magazine ".... the nearest thing to the real article" The Times, ".... about as true to the originals as you can get" and "Just like the real thing" enthused rock star photographer Gered Mankowitz.
Keith Richards' own mother, Doris, was kind enough to describe us as "outstanding" and fit to "stand in for the Stones" which is about as good an endorsement as any could wish.
It's not just enthusiastic fans who rate The Rollin' Stoned so highly, it is the people in the know and those from the Stones' inner circle.
The Rollin Stoned website The Rollin Stoned Facebook The Rollin Stoned Twitter The Rollin Stoned Instagram The Rollin Stoned YouTube clip