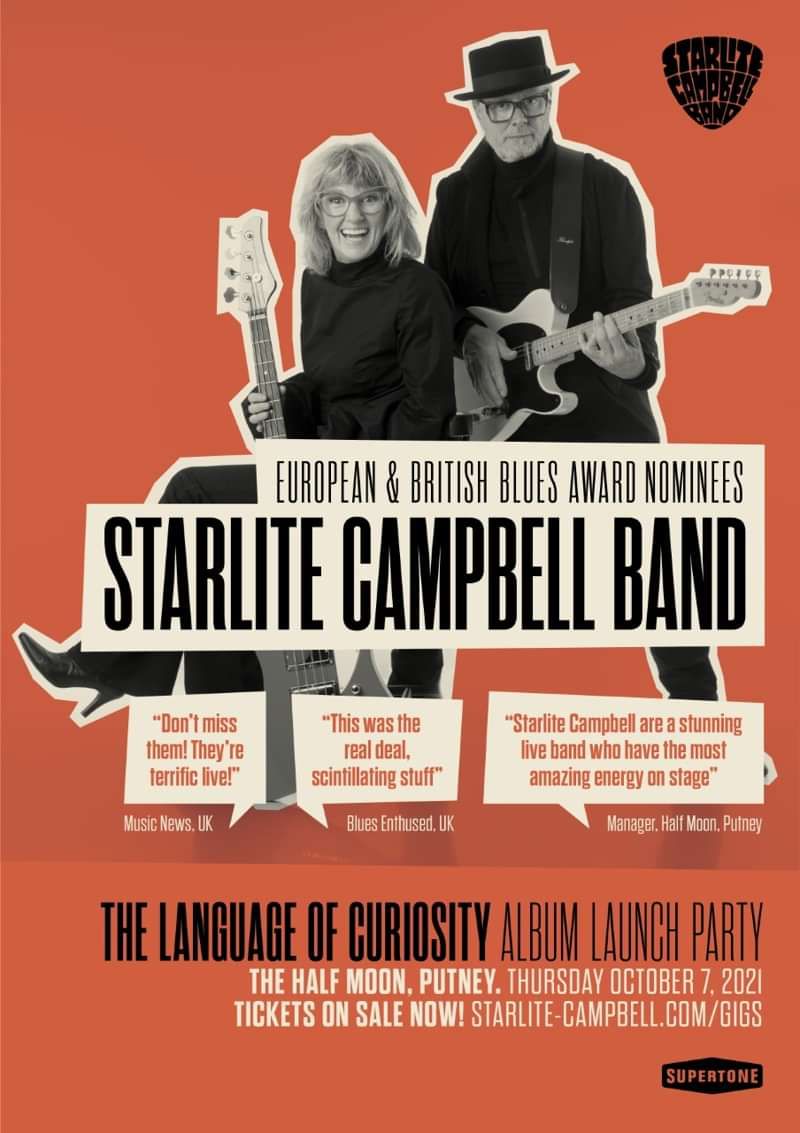 Half Moon presents:
Starlite Campbell Band
Starlite Campbell Band
£10 adv/£12 door
Entry Requirements: 18+ after 7pm
Starlite Campbell Band - 'The Language of Curiosity' tour - Album Launch Party - Half Moon - Thursday, October 7, 2021
"Don't miss them! They are terrific live!!" Music News, UK
Renowned for their onstage chemistry and electrifying live shows, European and British blues award nominees the Starlite Campbell Band are Suzy Starlite and Simon Campbell who fell in love on stage and married following a whirlwind musical romance.
With their fresh taste of '70s British rock and British blues, the husband and wife duo have been on an exciting roller-coaster of a musical ride following the release of their debut album 'Blueberry Pie' to rave reviews worldwide and a prestigious nomination for Best Album in the European Blues Awards. With extensive international radio play including BBC Radio 2, charting top 10 in the UK, Australia, The Netherlands, American Blues Charts and nomination for a Power Blues album (France) plus receiving over 50 four and five-star reviews worldwide, the band have played all over the world from headlining a festival in their Australian debut to main stage performances at The Great British Rock & Blues Festival, UK and Flirting with the Blues Festival, The Netherlands.
The band's exciting and highly anticipated second album 'The Language of Curiosity' is being launched with a special party at their spiritual home The Half Moon on Thursday October 7th, before embarking on a series of UK and European headline tour dates including the Carlisle Blues Rock Festival , Bluesroute Helmond Festival, The Netherlands, Germany, Czechia, The Netherlands, Spain and Portugal with more dates being added.
As full-time musicians, the art of the song is everything and Starlite and Campbell fly in the face of disposable music – writing, recording (they are analog afficianados), playing, engineering and producing all their own work and then releasing on their independent label Supertone Records. Their music is mastered by Jon Astley from Close to the Edge (Paul McCartney, Eric Clapton, George Harrison, John Mayall).
Don't miss this special party with the Starlite Campbell Band - a refreshing taste of '70s British rock and blues!
Line Up
The Starlite Campbell Band consist of Suzy Starlite and British blues awards nominee Simon Campbell.
Together they wrote, recorded and produced their debut album Blueberry Pie which was nominated for 'best album / recorded work' in the European blues awards and has received extensive international radioplay charting top 10 in the UK, Australian, Netherlands and American blues charts and over 40 four and five star reviews worldwide.
The work was mastered by Jon Astley, who has worked with such luminaries as Led Zeppelin and The Who, with vinyl lacquers cut by Miles Showell at the legendary Abbey Road Studios in London.