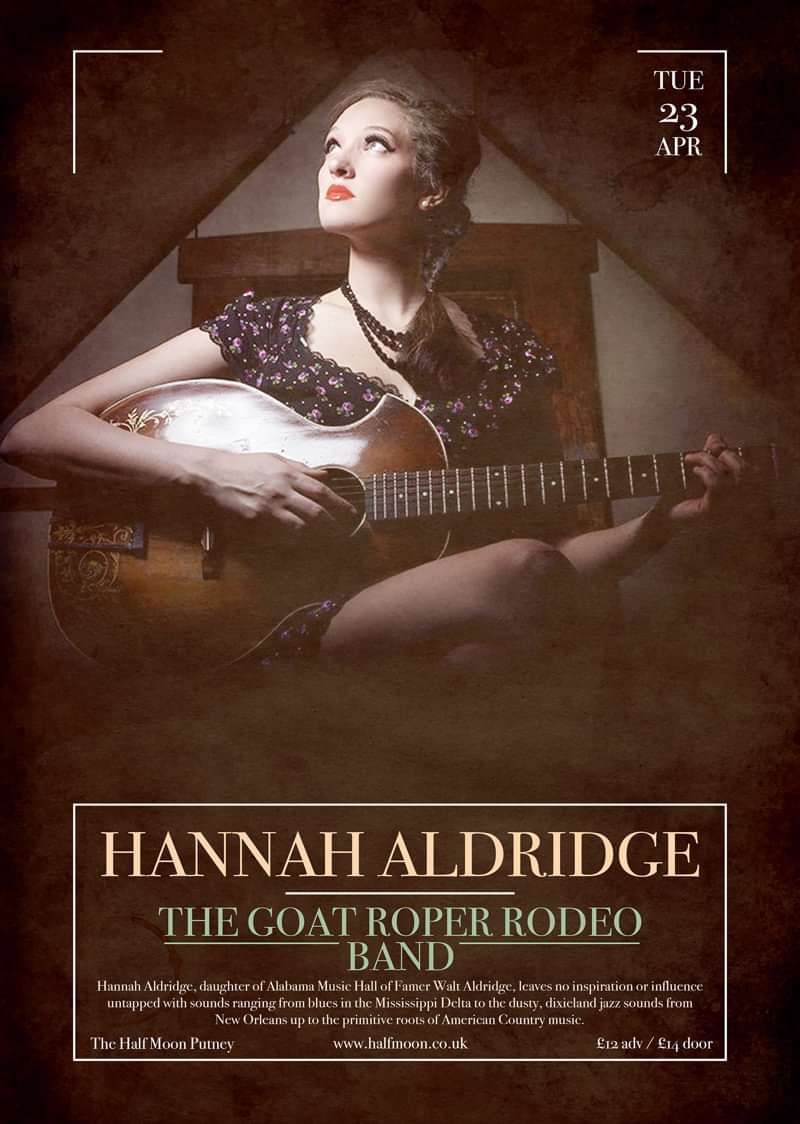 Half Moon presents:
Hannah Aldridge + The Goat Roper Rodeo Band
Hannah Aldridge + The Goat Roper Rodeo Band
£12 adv / £14 door
Entry Requirements: 18+ after 7pm
HANNAH ALDRIDGE
We are thrilled to announce that April 23rd will be the London launch of Hannah Aldridge's new live album. It is guaranteed to be an evening to remember. Plus we have The Goat Roper Rodeo Band as our very special guests and Hannah's house band.
Tickets are already going quickly for this one, so if you are planning to come along, please secure your place in advance.
If you would like to pre-order Hannah's new album, you can through Hannah's website.
There are few artists that can truly encapsulate the essence and true range of Americana like Muscle Shoals artist Hannah Aldridge, whose musical pedigree precedes her and speaks for itself.
Hannah Aldridge is the daughter of Alabama Music Hall of Famer Walt Aldridge, who is one of the most prolific songwriters of the modern musical era. Twice named by Billboard magazine as one of the Top Country Songwriters of the year, ASCAP Songwriter of the Year, and countless Number One and Top Ten hits recorded by the likes of Lou Reed, Reba McEntire, Travis Tritt, Earl Thomas Conley, Ricky Van Shelton, Ronnie Milsap, and Conway Twitty.
With sounds ranging from blues in the Mississippi Delta to the dusty, dixieland jazz sounds from New Orleans, the musical stylings of Muscle Shoals on up to the primitive roots of American Country music, Hannah Aldridge leaves no inspiration or influence untapped.
THE GOAT ROPER RODEO BAND
With just an upright bass, two old guitars and a bucketful of aching harmony, THE GOAT ROPER RODEO BAND are preaching 'Country Blues' like you never heard… It's up, it's down, it's soft and loud, it's dark and lonesome too, there's hurt and shame and some mean old pain but there's love in what they do! There's a hint of Gram, a sniff of Dylan and a twist of Waylon's blues … Simply put, it's exactly what it says on the tin.
"Like the Everlys fronted by Gram Parsons" (Fatea)
"Amazing" (Bob Harris)
"The Goat Ropers are the real deal ! I was blown away when I first saw them play and heard them harmonise, I wanted desperately to join in. If there's any justice in this crazy world, they'll soon be a household name and we'll all be keeping it country with them" (Romeo Stodart - The Magic Numbers)
Line Up
"I think people have forgotten what real drums and real voices sound like. We have been so overexposed to these pre-packaged "#1 hits" that when there is anything that has any glimpse of truth or rawness to it, it is like a fresh breath of air. Americana music really is lyrically driven and is meant to make people think, which is the total opposite of most of the stuff out there on the radio, so I think that naturally people are being drawn towards it." says Aldridge.
Besides being a seasoned staff songwriter for BAR Music with song placements in television shows like Hart of Dixie(CW) and recognition from American Songwriter as well as Relix Magazine, her vocal talents rarely go unrecognized, something that lends itself to being true to the Americana methodology of not using excessive "talent-enhancing" techniques in the studio or live. Both her natural and cultivated talent help her to emote with both listeners and musicians alike on a truly organic level. Hannah has toured all across the United States and Europe gaining a grassroots movement of fans that wait in silent adoration of the return of their Americana Heir Apparent Princess of Muscle Shoals.
Video "No Heart Left Behind" is the first single from Hannah Aldridge's new record "Gold Rush"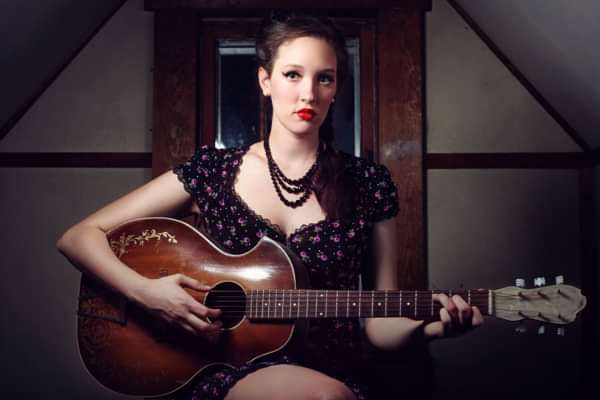 "The Goat Roper Rodeo Band take a slightly psychedelic route to the finish line and include some serious footstompin' rock 'n' roll along the way, Mix in a little gospel fire and a sprinkle of Gram and these boys ruled our last afternoon" (Spiral Earth)
"Wonderfully executed acoustic country blues with two guitars, a double bass and plaintive striking harmonies, a musical landscape driven by old timey sensibilities …there's a lot to like about the Goat Roper Rodeo Band." (R2 Magazine)
"With refreshing, startling vocal harmonies and quirky song writing skills, these young'uns can roll out a fab sombre number just as well as an upbeat one, the Goat Roper Rodeo Band possess a uniqueness and quality that promises success and lovers of this old timey sound are simply going to love this." (Maverick magazine)
"A fresh, energetic three-piece acoustic band who combine great vocal harmonies with up-beat, self-penned songs to make a memorable live show." (The Record Journal Live)
"Man, how can some so young be so sad….and so perfect!" (Ian Dunlop – Gram Parsons / Flying Burrito Bros).