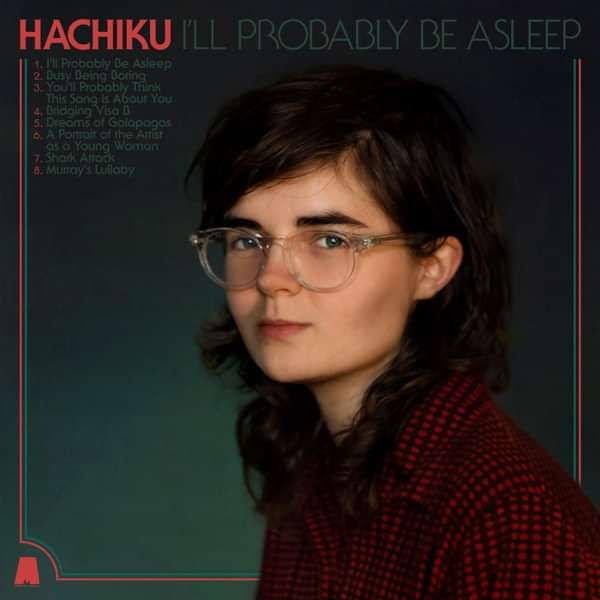 Hachiku - I'll Probably Be Asleep - Digital Download
A Portrait of the Artist as a Young Woman
You'll Probably Think This Song is About You
Tracklisting:
I'll Probably Be Asleep
Busy Being Boring
You'll Probably Think This Song Is About You
Bridging Visa B
Dreams of Galapagos
A Portrait of the Artist as a Young Woman
Shark Attack
Murray's Lullaby
When a close friend took an advance listen to Hachiku's debut album, I'll Probably Be Asleep, she had one question for bandleader Anika Ostendorf: "'why are you so angry?'" It's not the first reaction that most people would have to the Melbourne-based outfit, whose dream-pop jams —all dewy guitars, rickety drum-machines, and layered ambience, topped off with Ostendorf's oft-breathy voice— would seem to contain no sharp edges.
Hachiku, a.k.a. Anika Ostendorf, 26, writes and produces dream pop with an avantgarde twist from whichever bedroom she is currently inhabiting. Born in Detroit and raised in Germany, Ostendorf can best be described as a global artist whose bedroom studios are perpetually changing. She formed her sound at 16 while on a road trip across the U.S. with her dog, Lexus, before relocating to London and recently Melbourne.
Her bedroom beats have already been creating a buzz – opening for Courtney Barnett on her 2015 European tour and recently featured as part of Split Singles Club, a collaborative project curated by Australian independent labels Milk! Records and Bedroom Suck.
Hachiku is now permanently based in Melbourne and released her debut self-titled EP in 2017 through Milk! Records.
I'll Probably Be Asleep betrays much of that background, that sense of travel and wandering. It was recorded in countless locations: from houses in Australia and Germany to backyard sheds and rehearsal rooms. "It's like a big puzzle, piecing together these randomly-recorded sounds," Ostendorf says; offering that she thinks of herself "more as a producer than a songwriter".