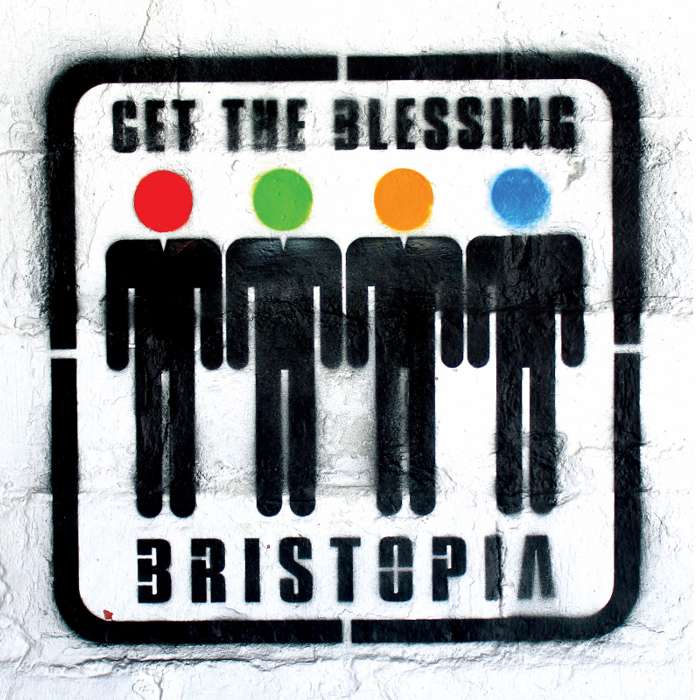 Bristopia (Orange LP)
Following the success of their 2015 album Astronautilus, jazz-rock mavericks Get The Blessing return with their spellbinding new Album 'Bristopia'.
Blending their mutant jazz sensibilities with spacey electronics and post rock atmospheres, 'Bristopia' ventures into new, unexplored territories.
From the jagged, interweaving brass patterns of opening track 'If It Can It Will', through the brooding atmosphere of 'Bristopia' and absorbing, haunting melodies of 'Not With Standing', the Bristolian quintet channel subterranean depths and soar from dizzying heights, leading the listener through a complex labyrinth of tangled melodies and sliding soundscapes of dark, immersive production.
Having been conceived, born and raised in Bristol, the band now pay tribute to their hometown with an album that careers around the city's one-way system (not always in the correct direction of travel), darting into some of its hidden alleyways and lesser-known night-time hot-spots, and occasionally just stopping to take in the dizzying vistas of sprawling buildings and distant hilltops.
With this powerful return, Get The Blessing send their sonic transmission deep into the furthest corners of the universe, setting the pace for the current UK Jazz revival, demonstrating that the early pioneers of the scene still have something important to say.
Tracklisting:
If It Can It Will
Cococloud
Cellophant
Sunwise
Not With Standing
Recorded For Training And Quality Purposes
Bristopia
Rule Of Thumb
The Second Third
Tuathal
The Grand Scheme Of Things