Electric Swing Circus w/ Support
Electric Swing Circus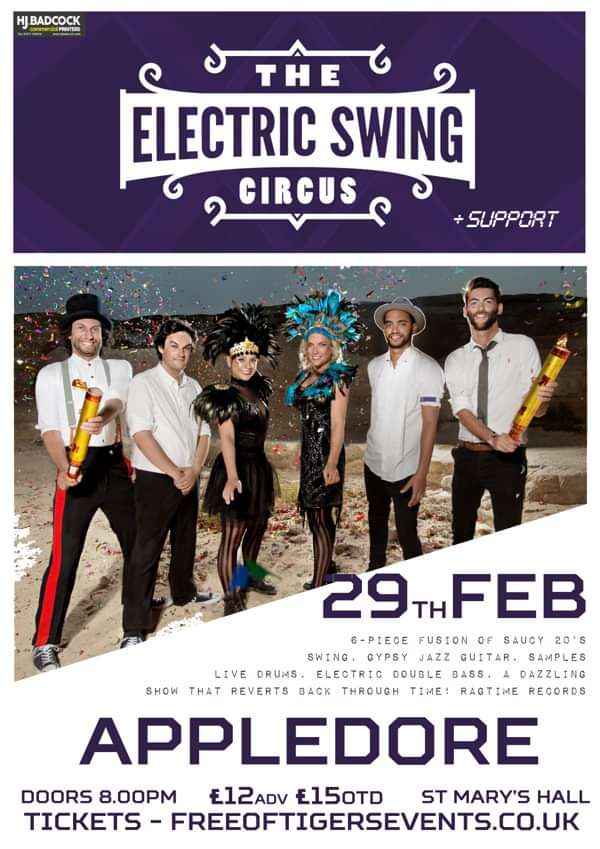 The ESC's sound is a powerful combination of vintage samples, electro beats, gypsy-jazz guitar, electric double bass, keys, live drums and dirty synths. Fronted by an engaging female double-act, who perform an extensive variety of vocal styles, the ESC delivers a consistently dazzling show.
Line Up
The Electric Swing Circus, a 6 piece Electro Swing band that fuses cool 20's swing with stomping electro beats in a dazzling live show. Fronted by the sassy Sisters of Swing with the addition of live drums, fretless bass, gyspy jazz guitar, keys, synths and swinging samples. The Electric Swing Circus hotfoots its way through everything from breakbeat and house to jungle and dubstep, whilst keeping true to their own unique style of swing.
The Electric Swing Circus burst out of Birmingham in 2011 to take up residency of the Hot Club De Swing, and Electro Swing Club UK wide. Their stunning live performance has earned them airtime on the BBC bigscreen nationwide and the coveted title of BEST LIVE ACT in the ElectroSwing Peoples Favorite Awards 2011.
Ladies and Gentlemen, hold onto your hats. The circus is coming to town.
View Profile