Dearest Brother - London Release Show
Firewoodisland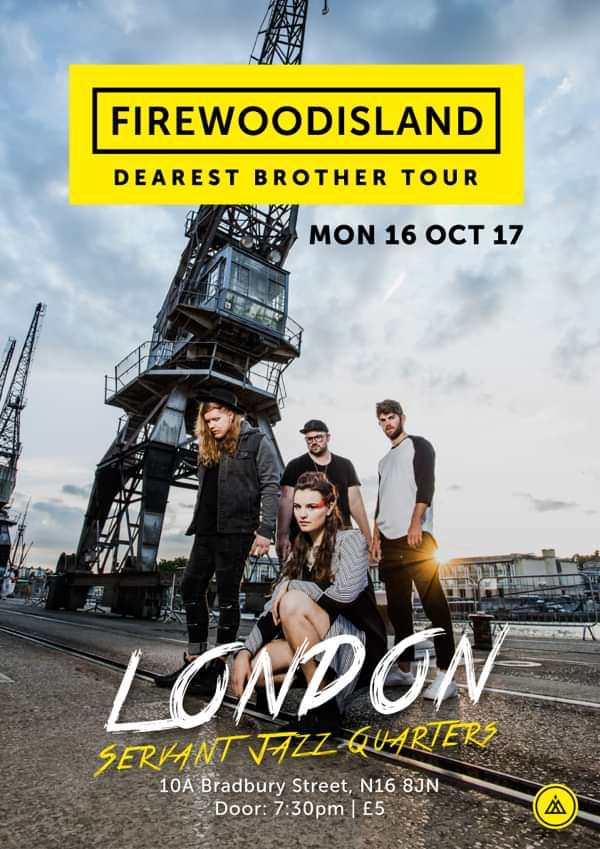 An intimate show to celebrate the release of single 'Dearest Brother' from our forthcoming debut album
Line Up
"Sweet, wonderful, perceptive songwriting." BBC Introducing
"...they sound festival-sized, delivering uplifting anthems that would fit as comfortably on the radio as around the campfire." Q Magazine
"...lush, inviting sounds" The 405
"...they'll be pillaging (in a good way) our playlists and camping out on our computers for the foreseeable future." Earmilk
Artist of the Week - BBC Radio Wales Regional Winners - Bandwagon Norway Twice winners of Amazing Radio's Audition
BIOGRAPHY Firewoodisland started its life as a solo project for Norwegian student Stian Vedøy - while he was studying for his Masters in Music Production in Cardiff - became a coming together of fellow like-minded musicians. A regional win in Norway's Bandwagon Battle of the Bands in 2013 saw the project become a full band and their debut EP 'ILD' followed.
Their second EP, 'Dome' - set for release on 22nd April - is the next instalment of the 5 piece's own brand of pop music. The 5 tracks are a collection of stories from different realms of the imagination, all tied together with cerebral lyrics, tight harmonies, soaring melodies and a Norwegian effortlessness.
The now Bristol-based Firewoodisland are Stian Vedøy (lead vocals, guitar, keyboards), Abi Eleri (vocals, percussion, samples), Steve Allen (drums), Rowan Blake Talbot (bass) and Dylan Jones (trumpet, keyboards, guitar).
View Profile