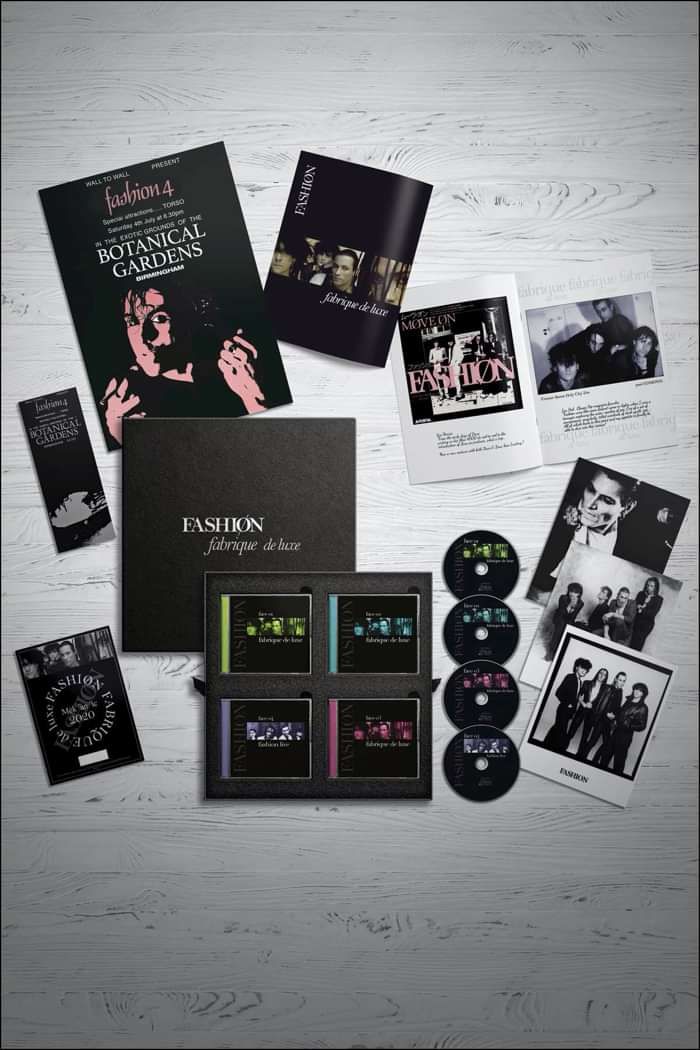 Fabrique Deluxe Box Set
A limited number box set containing:
4 CDs 60 Page Colour Booklet Signed & Numbered certificate of authenticity 4 8x10 photos A3 poster Reprint of the Birmingham Botanical Gardens Ticket
Tracklists:
Face 01:
The A & B side of the Original Fabrique Album.
Move On
Love Shadow
Streetplayer - Mechanik
Dressed To Kill
You Only Left Your Picture
Something In Your Picture
It's Alright
White Stuff (Short Cut)
Do You Wanna Make Love
Slow Blue
Face 02:
Extended mixes from 12" Dance Singles.
Mutant Dance Move
Smokey Dialogue
Mutant Mix Mechanik
Dressed to Kill (Double Dub)
You Only Left Your Picture (Reggae Reprise)
Alternative Playback (Half Frame)
White Stuff (The Unfinished)
Do You Wanna Make Love ( at 5.00 A.M.?)
Face 03:
Dub Tracks from B side of original cassette plus various unreleased mixes.
Move On (Audio Extra)
StreetPlayer - Mechanik (Audio Extra)
Love Shadow- Smokey Dialogue
Something In Your Picture (Motor Drive)
Mutant Mechanik
Love Shadow (7" remix)
Alternative Playback (Full Frame)
Lets Play Dirty - (Centrefold)
Love Shadow (U.S. 12" Promo Mix)
Something in your picture (Test Pressing Mix)
Face 04: Fabrique Global Birmingham MMXIX
Dressed To Kill
Something In Your Picture
Do You Wanna Make Love
Love Shadow
Streetplayer
Move on
You Only Left Your Picture
To read more in depth descriptions about he tracks and compilations, please see the 'about' section.