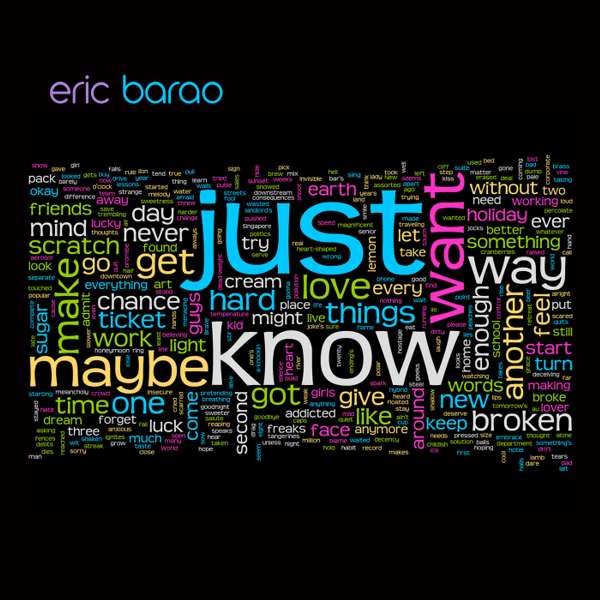 Eric Barao (digital download MP3 album)
Self-titled debut album released April 2013.
Alive (But Barely Breathing)
In Love With A Broken Heart
Eric Barao is a powerpop singer-songwriter and co-founder of The Cautions, a powerpop / rock band from Boston. This long-awaited debut album was co-produced by legendary powerpop songsmith Bleu, and was recorded and mastered by Ducky Carlisle at Ice Station Zebra.
Clever lyrics and indelible melodies make this album an instant powerpop classic, reminiscent of artists such as Jon Brion, XTC, Jellyfish, The Raspberries, Elliott Smith, The Beatles, Sam Phillips, Michael Penn, Aimee Mann, Rufus Wainright, Roger Joseph Manning Jr. and more.
Reviews:
"Immaculately crafted pop tunes.. making this an early contender for the power pop album of the year. Take a listen and I'm pretty sure you'll agree." - Steve, Absolute Powerpop
"This one is for the high-fidelity freaks... the extraordinary arrangements and instrumentation — including wurlitzer, mellotron, ukelele, tuba, bicycle wheel — shine through and sweep you away. There are just no boring parts — lovely Beatle-y bits keep weaving in and out" -Beth, Providence Daily Dose
"Despite rarely having any quick tempos, the songwriting and performances keep things from getting dull. So without any duds amongst the ten tracks, this definitely stands as a contender for my top ten list for 2013." -Aaron, Powerpopaholic
"If public taste ever returns to its collective senses and starts rewarding artists for things like clever songwriting and strong production value, Eric Barao should be a household name before long." -Don, Motif Magazine
"Barao's lushly produced debut album recall Elvis Costello's Imperial Bedroom with its swirling melodies, complex arrangements, occasional instrumental flourishes and tales of broken hearts. The lead track, "On Holiday," with its tension-release structure and Barao's strong vocals, is a candidate for song of the year." - Jeffrey, Pop That Goes Crunch
"dramatic, romantic and emotional... this wonderful album which represents all that is great about power-pop... filled with the pure power of song... This album is the fruit of his talent and effort, and is truly amazing." -PowerPop Academy (Japan)