The Sun and The Blues (Limited Edition 10" Vinyl & Online Bonus)
This bundle also includes: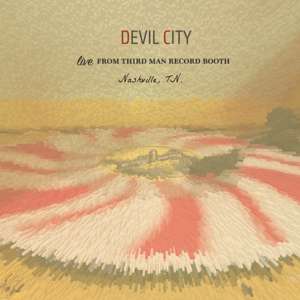 BONUS TRACK (The Sun and The Blues) - Devil City Live at Third Man Records
The epitome of lo-fi recording! Emma King performs Devil City as it is cut live to vinyl in Third Man Records, Nashville's live recording booth.
This Free Digital Download is included when you order 'The Sun and The Blues' Vinyl online at Music Glue.
This bundle also includes:
The Sun and The Blues (Limited Edition 10" Vinyl)
"Spine-tingling... Emma King's Sun Studio recordings sound exactly like you are sitting in on a session from the 50s" – Sean Magee, Abbey Road Studios
Recorded between 2014-2018, The Sun and The Blues showcases four of Emma King's best live recordings at America's homes of Rock 'n' Roll: Memphis and Nashville, Tennessee.
Tracked live to analogue tape by Grammy award-winning engineer Matt Ross-Spang (Jason Isbell, Margo Price), Jake Niceley (Alison Krauss, Osmond Brothers) and Dustin Richardson (Milk Carton Kids), Emma and her band capture the heart and soul of these original songs, recorded and produced in a way that is faithful to the legacy of these historic studios.
Sun Studio is the famed Memphis recording studio founded by Sam Philips where Elvis Presley and Johnny Cash made their first ever recordings. The 'Birthplace of Rock'n'Roll' was made available to Emma for a private evening session in 2014. The House of Blues Studio, started life in Memphis but eventually relocated to Nashville, TN and in 2009 brought one of its most-loved buildings (Studio D) in its entirety on a truck down the I-40 motorway!
The recordings have been kept as authentic as possible...these are full live takes performed by musicians all in the same room.
As an online bonus, Emma has also included a live-to- vinyl recording of her track 'Devil City' from Jack White's Third Man Record Store Booth in Nashville, TN.
The Sun and The Blues was cut to vinyl and mastered at Abbey Road Studios, London.
TRACKLISTING:
All the Other Fools (Live at Sun Studio, Memphis)
Rollin' In (Live at Sun Studio, Memphis)
Break the Mould (Live at House of Blues Studios, Nashville)
Wild Things (Live at House of Blues Studios, Nashville)