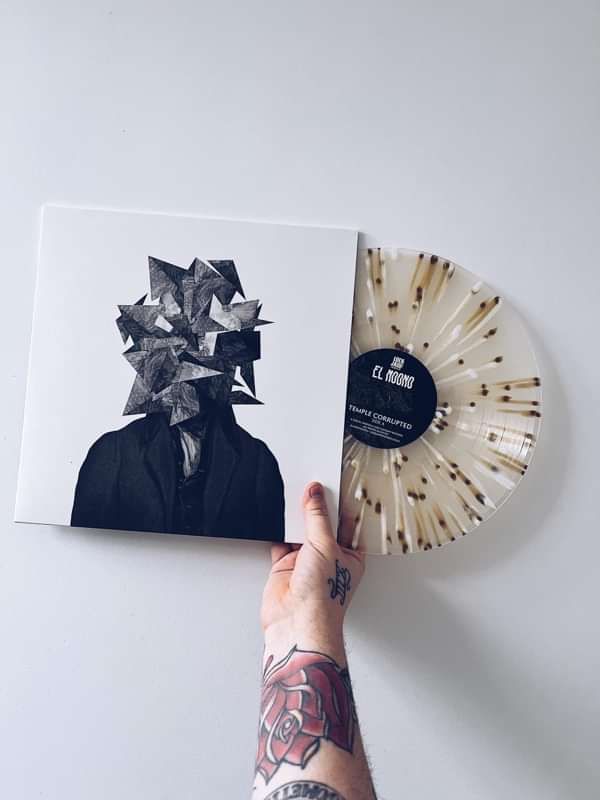 Temple Corrupted (White/Gold/Clear Splatter Vinyl)
Pay what you want ($17.77 minimum)
Deluxe 12" vinyl version of El Moono's Temple Corrupted. Pressed on ultra clear with white/gold splatter vinyl.
Tracklisting:
The Wild Hunt
Final Execution
Requiem
Forced to Smile
Miseria
Splitting the Atom
White Gold
Temple Corrupted is a concept EP, focused on depression and anxiety, and how societal corruption affects individual mental health.
'White Gold' tackles issues around institutionalised segregation of race and the injustices ethnic minorities face, fronting up to how the UK is an 'ignorant empire'. Unafraid to confront serious events, their track 'Requiem' was inspired by watching a loved one waste away due to illness.
'Temple Corrupted' gained the attention of legendary artist Dan Hillier, who lent his stunning artwork for the cover. El Moono are the third band Dan has worked with after fellow Brighton-based heavyweights Royal Blood and Architects.
A reflection on the fragility of life, Temple Corrupted is a fearsome and impassioned EP from a highly promising group.
Zac Jackson - Vocals, Guitar Jamie Haas - Guitars, Vocals, Lap Steel Harry Logan - Bass Guitars, Synthesizers Chris Cartwright - Drums and Percussion
Sam Coveney - Producer, Arranger (track 6) Tom Hill - Mastered Dan Hillier - Artwork