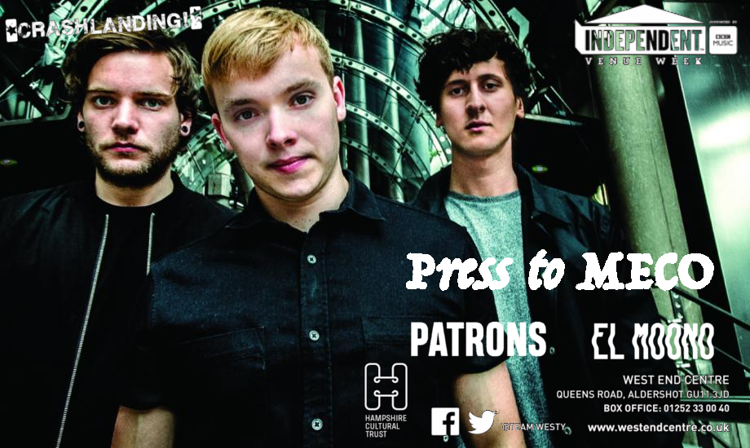 Supporting Press To Meco (Independant Venue Week)
Press to MECO + PATRONS + EL MOONO
Buy Tickets
Line Up
Press to MECO
It's happened time and time again, when the prevailing culture grows stale, colourless, dull and apathetic; the conventional is washed away by new artistic uprisings. For the last few years, three young musicians have taken to the UK roads, playing hundreds of venues (repeatedly) with a diverse range of artists from various musical genres. All the while, recording, writing and developing a rich sense of identity with a focus on finding an unconventional take on great melody, pop hooks, technical precision and crushing breakdowns.
'Press to MECO' are guitarist/vocalist Luke Caley, bassist/vocalist Adam Roffey and drummer/vocalist Lewis Williams, a trio on a relentless pursuit to harness their sound into a punchy, driving and visceral powerhouse.
Luke, Adam and Lewis have found creative inspiration in bands like 'SikTh', 'The Dillinger Escape Plan', 'Rueben', 'Everything Everything', 'Manchester Orchestra' and 'Deftones'; to pop artists 'ABBA' and 'Michael Jackson'.
'Press to MECO' are the perfect synthesis of technical proficiency and attention grabbing bursts of energy. They are a progressive hardcore rock metal pop [insert genre here] band hailing from Crawley/Croydon; performing off-kilter, unreasonably catchy songs, full of twists and turns. Alternating vocals blending into 3-part harmonies, coming together with sometimes beautiful, sometimes forceful, always overwhelmingly powerful instrumental breakdowns. The ideal mix of technicality and catchiness delivered with pop sensibilities that are just plain fun.
Probably the biggest influence on 'Press to MECO' has been the live circuit. Two appearances at Download Festival, a main stage show at UK Tech-Metal Fest, The Great Escape (AIM night), Hevy Fest, 2000 Trees, and supporting amazing bands like 'Funeral For A Friend', 'Black Peaks', 'Monuments', 'ZOAX' and 'Max Raptor' has taught us, you need to bring your 'A Game' to every show, no matter how big or small the crowd, no matter how great or how poor the venue." - Luke Caley.
The debut album 'Good Intent' was released in October 2015 and was shortlisted for Independent Album of the Year at the 2016 AIM Awards. The band have recently returned from Austin, Texas where they recorded the follow up album with producer 'Machine', scheduled for release in the first half of 2017.
The Circle Pit Review 9/10 https://www.thecirclepit.com/2015/10/press-to-meco-good-intent-album-review.html
UK Scumscene Review 9/10 https://ukscumscene.wordpress.com/2015/10/06/review-press-to-mecos-good-intent/
Press to MECO – 'Good Intent' shortlisted for Independent Album of the Year 2016 http://www.musicweek.com/talent/read/aim-awards-2016-shortlist-revealed/065541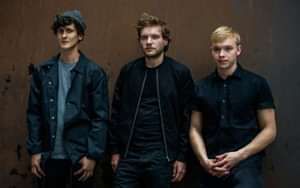 PATRONS
'Every now and again, a British band will come along with ambition on a grander scale than the majority of their peers' (Rocksound 2015)
Patrons deliver the above intent with their debut LP 'As Above, So Below'. It's a delivery that reflects Patrons' ferocious live reputation; they've spent the last year sharing the stage with the likes of Every Time I Die, We Are The Ocean, HECK and Black Foxxes.
Patrons' heavy hitting full-length still retains the expanse and anthemic qualities that they promised with their previous two EPs and stand alone single; releases that received critical-acclaim from the likes of Rocksound, Kerrang Radio, BBC Introducing and BBC Radio 1 in the UK, and the likes of Visions Magazine and Slam! CD in Europe.
For a debut LP, there is no middle ground here; Patrons still demonstrate their unique ability 'to stand-out on their own like a fucking hurricane'.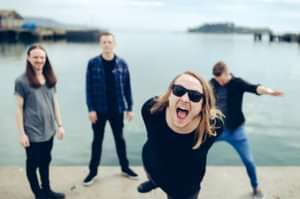 EL MOONO