WEEKENDAH - Darwen
Deadset Dream + Novustory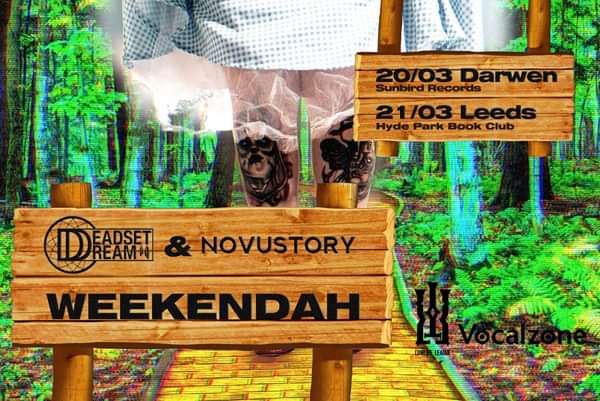 General Admission (e-ticket)
DARWEN WEEKENDAH TICKET & TEE BUDDLE
👠 DEADSET DREAM X NOVUSTORY WEEKENDAH👠 We've teamed up with our buddies in Novustory to give you a weekend full of wonders as part of our 2020 U.K. tour🏠🌪 Darwen - 20/03/20 - Sunbird Records Leeds - 21/03/20 - Hyde Park Book Club
Line Up
Deadset dream are picking up speed - The Sheffield based Pop Punk / Alt Rock 5 piece have been making waves in recent months and their journey is just beginning. Voted #20 in the BBC Introducing top tracks of 2017, the band have enjoyed regular plays on BBC Radio Introducing Sheffield and have personal backing from Judas Priest's Rob Halford. In 2017 they were picked up by AJM management and the band made their Reading and Leeds debut on the BBC introducing stage and relished in the positive reaction from the crowd. On the back of this they completed a full UK tour with Room94 and Bronnie, alongside several headline shows across the country. The boys are frequently in studio with the likes of Jim Pinder and Ben Sansom of Lower Than Atlantis, and are dedicated to growing as a band and creating new material. The best is yet to be heard, and the band are fired up ready for not only a number of single releases and music videos dropping in 2018, but also another UK tour over Easter and plenty more surprises.
View Profile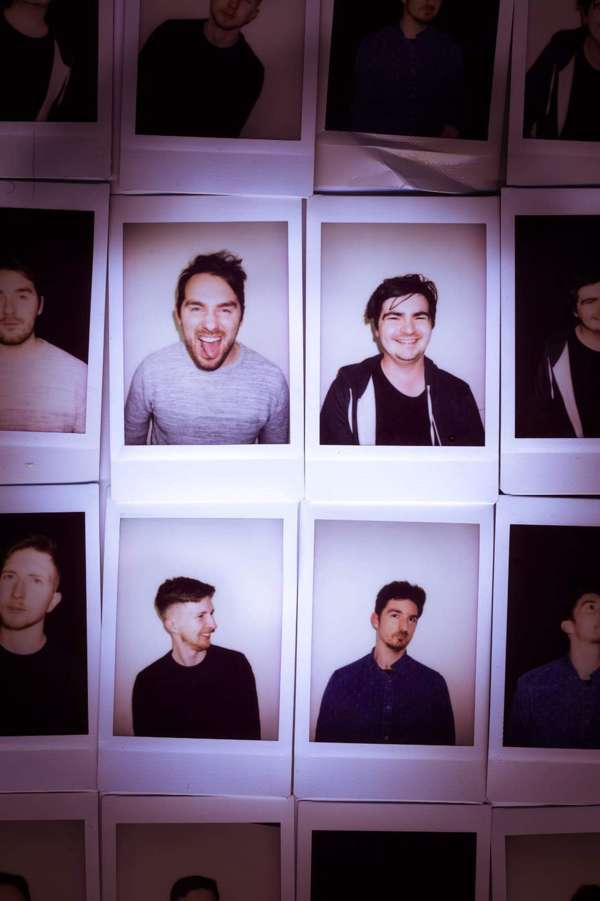 POWER FRONTED ROCK BAND NOVUSTORY CREATE STADIUM WORTHY ROCK BANGERS FROM A GLORIFIED SHED IN MANCHESTER. ENDORSED BY VOCALZONE AND DR DRUMS UK, NOVUSTORY HAVE RECEIVED WIDE ACCLAIM FROM VIRGIN RADIO AND FASHION MAGAZINE GLAMOUR, RESULTING IN BEING ASKED TO RECORD SESSIONS FOR BOTH. FOR FANS OF ROYAL BLOOD, PARAMORE & MUSE, THEIR VERSATILITY AND DYNAMIC ABILITIES HAVE SEEN THEM THRIVE SUPPORTING METAL ROCKERS 'DREAM STATE', INDIE POP INFLUENCED 'THE LOTTERY WINNERS' & STADIUM ROCKERS 'BANG BANG ROMEO'. THEY'VE TAKEN THEMSELVES ON 3 EUROPEAN TOURS OVER THE PAST 3 YEARS, GIGGING IN AMSTERDAM, BELGIUM, ITALY & FRANCE, & HAVE CAMPED AND BUSKED THEIR WAY THROUGH EACH COUNTRY.
THE BAND: IMOGEN STOREY – VOCALS, BEN CROSS – GUITAR, JAMES DUCKWORTH – DRUMS, CHRIS HORROCKS - BASS
Disocgraphy – Mirrors Single, Mirrors EP, 10 Months Of Mayhem EP. Denial Single, Monster Single, Edible Single.
DAB/FM Radio plays: Planet Rock, BBC Introducing, All FM, Trafford FM, Virgin Radio, Chorley FM, XS Manchester busking.
Tim Cocker - Virgin Radio - Told Imogen in the Radio interview, that she has "GOT A PROPER PAIR OF PIPES ON HER" and that the band are "DEAD GOOD".
Richard Jupp - Elbow (Referring to 'Twitch' on the Mirrors EP): "THAT SONG IS MONSTROUS"
Steve Berry – Manchester XS Radio – "THEY WERE AMAZING" said after he saw Novustory perform at Manchester Hard Rock Café.
Jason Manford – "WOW WHAT A BAND" said when we supported him at a charity gig. He later tweeted about the band recommending them to his followers.
Sarah Jane Dunn – Holyoaks – "YOU GUYS ARE AMAZING" said when she saw the band at a charity gig.
Gaz Hadfield – Producer – "THIS IS MORE THAN JUST A DEBUT EP – IT'LL PUT YOU ON THE MAP".
Akademia (Music Magazine): "With exceptional vocals, machine gun snare work and refined guitar riffs, Novustory has created a collection of songs embodying that which is most intriguing in the alt rock art form".
Even The Stars (Manchester Music Blog): "A three-piece from Tottington near Bury fronted by the iron-lunged Imogen Story who boasts an impressive vocal range that's soulful in parts but can also pull off full on rock in others accompanied by Declan Brown on guitar and James Duckworth on drums. They've got a big sound that so many new bands take an age to master and they write songs that grab your attention early on and hold it through the intensity of the performance and the sheer quality of the songs".
*IMO (Music Blog): *"I do not know how these guys do it but they manage to fill songs entirely, by only having this three point combination. Some may say unorthodox, but they have got the tunes that make you move. I have to say, I've heard a 5 piece band try and fill a song and they wouldn't even come close to how well these guys are doing it ".
Metalashesofphoenix (Music Blog): This is another band that I'm going to put on my 'must go and watch again' list.
Dreaming Is Free (Music Blog): Up next, the fucking incredible Novustory. I first met Imogen and James from the band a few weeks ago at Bang Bang Romeo. We got chatting and dancing (as you do) and they mentioned that they'd supported them at their home town end of year show. I had no idea they were in a band and someone said to me you need to listen to them because Imogen's voice is amazing. I don't say this lightly - they're fucking, monolithically incredible! They brought stadium rock to a pub in Stockport and it was insane. Their sound was immense. Imogen's vocals were like Hayley Williams early Paramore but better. Add this to James's (Ducky) drumming who's playing is intensely brilliant (so much so they've had to put him behind perspex); Ben on guitar who shreds like a beast; and then with Chris on bass who swags around like a bad ass because he plays the bass like one - and you have the makings of a band who have all the ingredients to be world beaters! These guys will be playing stadiums in the next few years, Download and other rock festivals and they deserve every fucking success. Not only are they insanely talented musicians, but they're also such incredibly nice people. They wouldn't be out of place supporting bands like Metallica ( I should know having seen them 5 times); Rammstien or Marilyn Manson. I filmed their whole set because I wanted to capture the magic of them playing to such a small crowd. To have seen a band this good in a venue so intimate was amazing. Despite Ben having a broken string and having to go off mid set, it didn't affect their performance. Despite his best efforts to restring on stage, he had to go off stage to sort it out and the band being the professionals they are carried on with bass, drums and Imogen's etherial voice. It was like an unplugged version of the song and it sounded fucking mint! Imogen asked when Ben came back, if we wanted to hear the song played again with Ben because he's such a great player. We shouted yes and she's not wrong - they're all bloody brilliant! If you get the chance to see these guys play soon, then take it. You'll regret it if you don't! Thanks to all bands for such a great nights music and to Leaf Promotions for putting on such a great event.
RGM online (Music Magazine): Novustory are a band that has the potential to go places with their hard-hitting rock music and powerful vocals. They aren't afraid to get their hands dirty in order to make it either, after doing everything they can to do European tours at this early stage of the bands career.
So, its comes as no surprise that their latest single 'Monster' is a great song as you know they will have put in the effort. The song knows its key strength is in the vocals, they are strong and brilliant, so the rest of the music is built around the vocals.
That's not to say that the music isn't great in fact it is the opposite. The slow start into a build up drum beat with hints of guitar whines in the background make a great setting to the song. Eventually building up into a belting chorus with fast heavy drums, hard guitar riffs and the signature power voice.
It's great to see a band going down the alternative rock route as there are so many indie rock/pop bands out there trying to be the next Arctic Monkeys, that its become stale. The alternative rock scene is a very open genre and is crying out for more new young bands to embrace it. Novustory seem to be embracing it and with the talent shown in 'Monster' and the sheer effort they put in, they have a great chance of making it.
View Profile