Deadpunk Promotions presents:
Weakened Friends
+ ¡AY CARMELA! + SØFT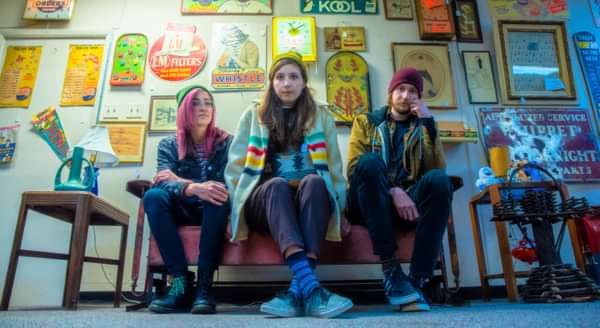 DEADPUNK PROMOTIONS PRESENTS:
WEAKENED FRIENDS (Portland, USA)
Three alternative rock wiseasses and snack food connoisseurs, the trio—Sonia Sturino [vocals, guitar], Annie Hoffman [bass], and Cam Jones [drums]—first congregated in their adopted hometown during 2014. Sonia had recently relocated from Toronto and holed up in a house with Cam and a bunch of other dudes before witnessing Annie play live and asking her to join the band. As they released two independent EPs, Gloomy Tunes and Crushed, they stirred up a palpable buzz (between consuming sour spaghetti and causing trouble). Gigs followed with everyone from CHVRCHES and Silversun Pickups to Beach Slang and Juliana Hatfield as they made their 2017 debut at SXSW and earned praise from Vanyaland, CBS, If It's Too Loud, and many more. A wiry, whimsical, and wild fusion of disarmingly pop hooks and fuzzed-out riffery that wouldn't be out of place on the Reality Bites soundtrack or in a modern Brooklyn bar fueled this quiet rise. https://weakenedfriends.bandcamp.com/
¡AY CARMELA! (Bristol, UK)
https://aycarmela.bandcamp.com/
SØFT (Bristol, UK)
New band featuring a mix of wonderful humans.
Line Up
Weakened Friends
¡AY CARMELA!
SØFT