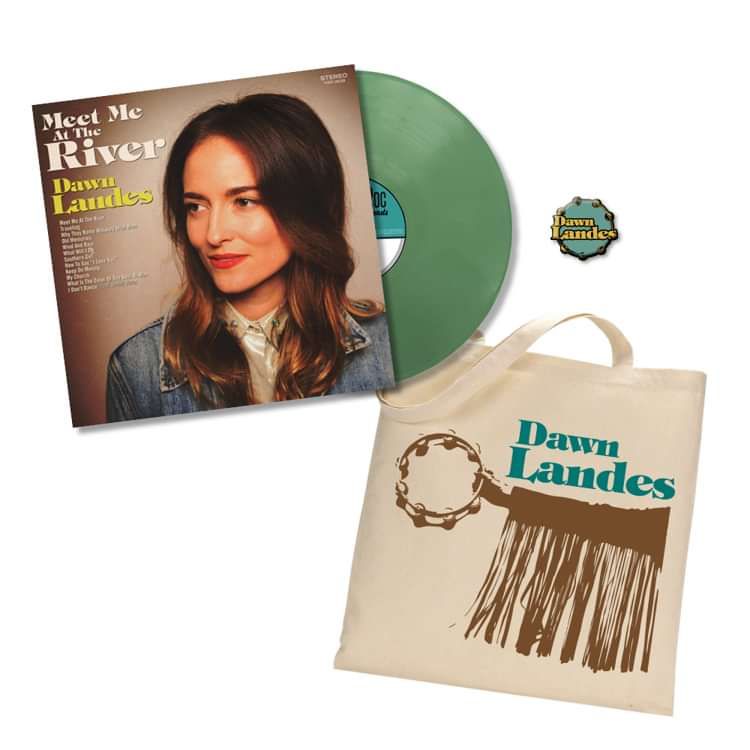 LP Pre-Orders feature limited edition Sage Green vinyl!
Meet Me At The River is Landes' self-described "Nashville record," and she has assured its pedigree by enlisting the production skills of Fred Foster, the Country Music Hall of Fame member who played a pivotal role in the careers of Dolly Parton, Roy Orbison, and Kris Kristofferson.
Two years ago, Landes reached out to Foster, and a four-hour visit to his Nashville home convinced both they were musical kindred spirits. With roots in both Louisville, Kentucky, and Branson, Missouri, Landes has been attracting ardent fans and critical acclaim since entering New York's music scene in 2000. Along the way, she has collaborated with such contemporaries as Sufjan Stevens, Justin Townes Earle, and Norah Jones, creating music for albums, movies, and television that crosses folk, rock, and alternative genres.
Meet Me At The River LP + Tote & Pin Bundle
This bundle also includes:

This bundle also includes:

Meet Me At The River LP

More info

Europe LP release date September 14th

Track List
1. Meet Me at the River
2. Traveling
3. Why They Name Whiskey After Men
4. Old Memories
5. Wind and Rain
6. What Will I Do
7. Southern Girl
8. How to Say "I Love You"
9. Keep on Moving
10. My Church
11. What Is the Color of the Soul of Man
12. I Don't Dance (feat. Bobby Bare)