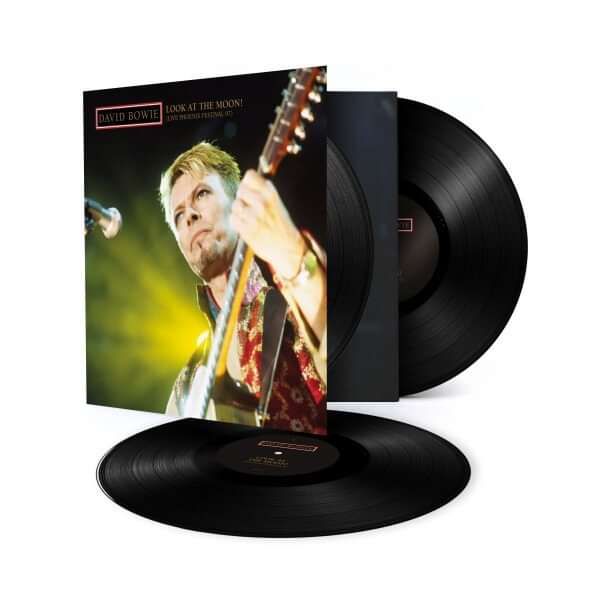 LOOK AT THE MOON! (LIVE PHOENIX FESTIVAL 97) (3LP)
Never before released and exclusive to both Dig! and DB.com stores, LOOK AT THE MOON! (LIVE PHOENIX FESTIVAL 97)
Completely unreleased until now, LOOK AT THE MOON! Is the fourth in the Brilliant Live Adventures series of 90s live albums exclusive to Dig!
Recorded live at The Phoenix Festival, Long Marston, England on 20th July, 1997, LOOK AT THE MOON! features such previously unreleased rarities as a cover of Laurie Anderson's 'O Superman', which the band had also played at their secret show as 'The Tao Jones Index' show at the festival the previous day.
LOOK AT THE MOON! by David Bowie; David Bowie – vocals, guitar, saxophone, Zachary Alford - drums, Gail Ann Dorsey - bass, vocals, lead vocal on 'O Superman', keyboards, Reeves Gabrels – guitars, synthesisers, vocals, musical director, Mike Garson – piano, keyboards, synthesisers.
TRACKLISTING
Side 1
1. Quicksand
2. The Man Who Sold the World
3. Driftin' Blues/The Jean Genie
4. I'm Afraid of Americans
Side 2
1. Battle for Britain (The Letter)
2. Fashion
3. Seven Years in Tibet
Side 3
1. Fame
2. Looking for Satellites
3. Under Pressure
Side 4
1. The Hearts Filthy Lesson
2. Scary Monsters (and Super Creeps)
3. Hallo Spaceboy
Side 5
1. Little Wonder
2. Dead Man Walking
3. White Light/White Heat
Side 6
1. O Superman
2. Stay
Limited to one copy per customer. Duplicate orders will be cancelled.