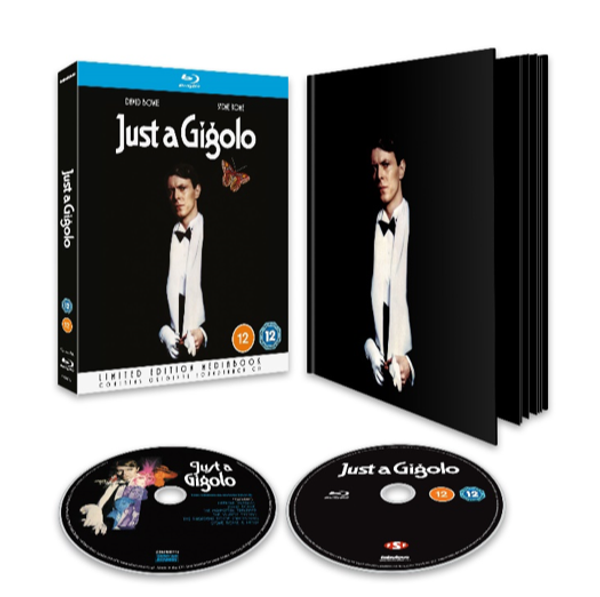 Just A Gigolo Blu-Ray
Starring David Bowie & Sydne Rome
Being released on Blu-ray for the very first time from the 16th August 2021
Special Features
• The Making Of Gigolo with Writer/Producer Joshua Sinclair and Assistant To The Director Rory MacLean
• Audio Commentary with Rory MacLean
• Original Trailer
• Original Soundtrack CD
• 54 Page Companion Booklet
David Bowie & Sydne Rome star in this forgotten period movie gem, which has now been digitally remastered from original sources. Presenting the film for the first time ever in high definition in a wonderful, limited edition Media Book presentation, featuring the digital restored film on Blu-ray along with the Original Soundtrack. This premiere release also comes complete with a 54-page booklet and with bonus features including The Making of Gigolo with Producer/Writer Joshua Sinclair and Assistant Rory Maclean to the Director David Hemmings, as well as audio commentary with Rory MacLean.
Just a Gigolo also stars two Hollywood Icons Marlena Dietrich in her last movie appearance and Kim Novak (Vertigo). The film was Directed by David Hemmings who also appears in the film. The film also features James Bond Villain Curd Jürgens (The Spy who loved me).
Synopsis
Paul von Przygodski (David Bowie), a young Prussian gentleman, arrives in the trenches in time to be caught in the final explosion of the Great War. After recuperating in a military hospital, where he is mistaken for a French hero, he returns to Berlin. His family home has been turned into a boarding house, his father (Rudolf Schündler) is paralyzed, and his mother (Maria Schell) is working in the Turkish baths.
Attempting to find a new purpose, his childhood friend, Cilly (Sydne Rome), abandons him for fame and fortune; his former commanding officer, Captain Kraft (David Hemmings), tries to persuade him to join his right-wing movement and a widow, Helga von Kaiserling (Kim Novak), briefly seduces him with the finer things in life.
In a society where the individual comes first and anyone can be bought, he is recruited by Baroness von Semering (Marlene Dietrich) as one in her regiment of gigolos. The cynical and decadent world of entertaining rich widows leads an increasingly disillusioned Paul to a poignant, chilling end.
It was David Bowie's first movie role after Nicolas Roeg's The Man Who Fell to Earth (1976). As Roeg's film had played upon Bowie's earlier identification with science fiction and alienness so Just a Gigolo fitted his then-current interest in pre-war Berlin, pricked by meeting Christopher Isherwood, whose Goodbye to Berlin had inspired the musical Cabaret. The city had also been the recording location for Bowie's latest studio album, "Heroes" (1977).