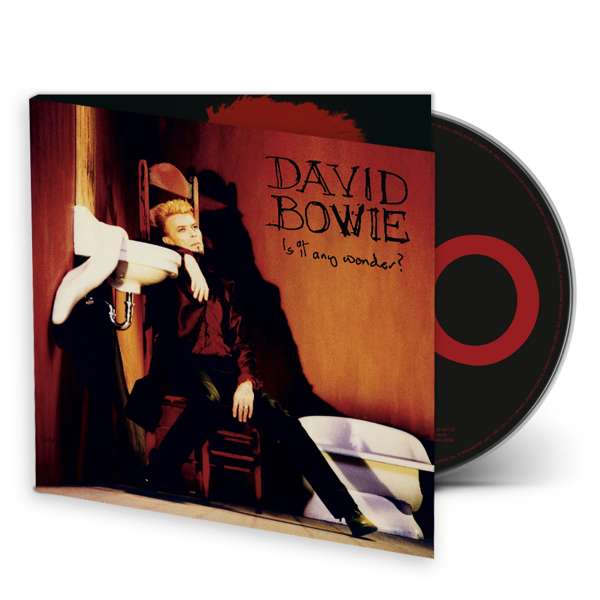 Is it Any Wonder? CD
Only 4000 Available Worldwide!
Please Note: This product is available for pre-order and it is anticipated to ship on or around March 20th.
A six-track EP of unreleased and rare tracks, available on CD and 12" E.P.
Tracklist:

Baby Universal '97
Fun (Clownboy Mix)
Stay '97
I Can't Read '97
Nuts
The Man Who Sold The World (Live Eno Mix)
BABY UNIVERSAL '97
'Baby Universal' was initially recorded by Tin Machine for Tin Machine II and was regularly performed on Bowie's Outside Summer Festivals Tour in 1996. The version now being released as 'BABY UNIVERSAL '97' was originally re-recorded for the Earthling album however it was ultimately removed from the final album master, but David was very fond of this version and before the track was dropped was quoted as saying, "I thought 'Baby Universal' was a really good song and I don't think it got heard. I didn't really want that to happen to it, so I put it on this album… I think this version is very good."
FUN (CLOWNBOY MIX)
'Fun (Clownboy Mix)' started out life as a modern revamp of the Bowie classic 'Fame' to be performed under the name 'Is It Any Wonder?' during David's 'club set' on the Earthling tour. The basic backing and sequencer tracks were worked at the Factory in Dublin docklands during the pre-tour rehearsals in early 1997. A live version of 'Fame' ('Is It Any Wonder?') was recorded at the Amsterdam Paradiso on 10th June, 1997, was further worked on by Mark Plati and Reeves Gabrels at Looking Glass Studios in New York and mixed at Sony Music Studios in New York in February 1998. Referenced in interviews by Reeves as 'Funhouse', the song further developed lyrically and musically and, by the time Danny Saber created the Clownboy mix in May 1998, it was a completely new piece of work written by David and Reeves and featuring no elements of 'Fame'. The Clownboy mix has previously only appeared on a BowieNet subscriber exclusive CD-ROM in 1998 and on Virgin Records in-house CDR's along with four other Clownboy mix variants.
STAY '97
'Stay' originally appeared on the 'Station To Station' album in 1976 and was released as a single in the US in August of that year. The previously unreleased 1997 re-recording of 'STAY' began at The Factory in the Dublin Docklands during the pre-Earthling tour rehearsals while David, Mark Plati and Reeves Gabrels were preparing the backing/sequencer tracks before the rest of the band arrived, and the rehearsals started in earnest. David wanted to 'update' some of his live show staples so they would sit well sonically with the Outside/Earthling material. The recording was completed later, potentially for use as a 'B-side', and mixed at Right Track Recording Studios, New York in May/June 1997.
I CAN'T READ '97
'I Can't Read' originally appeared on Tin Machine's eponymous debut album in 1989, and was a staple in the band's live set. In the autumn of 1996, during the mixing stages for Earthling, David re-recorded the track – which, at one stage, appeared on a mastered version of the album. 'I CAN'T READ '97', was David's preferred solo version, it was ultimately cut from Earthling and replaced at the last minute with 'The Last Thing You Should Do'.
NUTS
The unreleased semi instrumental 'NUTS' was jointly written by David, Reeves Gabrels and Mark Plati. It was recorded during the final Earthling sessions in November 1996, the same session during which 'The Last Thing You Should Do' was written and recorded. Both songs were being recorded as bonus tracks but then, at the last minute David swapped out 'I Can't Read' with 'The Last Thing You Should Do'. However, 'NUTS' has remained unreleased until now.
'THE MAN WHO SOLD THE WORLD' (LIVE ENO MIX)
A live recording was taken by Bowie collaborator Brian Eno into Westside Studios in London on 30th October, 1995, and reshaped with some overdubs and mixing. Eno wrote about the mix in his diaries saying: "I added some backing vocals and a sonar blip and sculpted the piece a little so that there was more contour to it". It was previously released as a double A-side on a green vinyl 7" single and as part of a CD single in various territories with the Outside version of 'Strangers When We Meet' in 1995, this version is based on the fairly radical trip-hop reworking of the song as performed on the Outside World Tour.