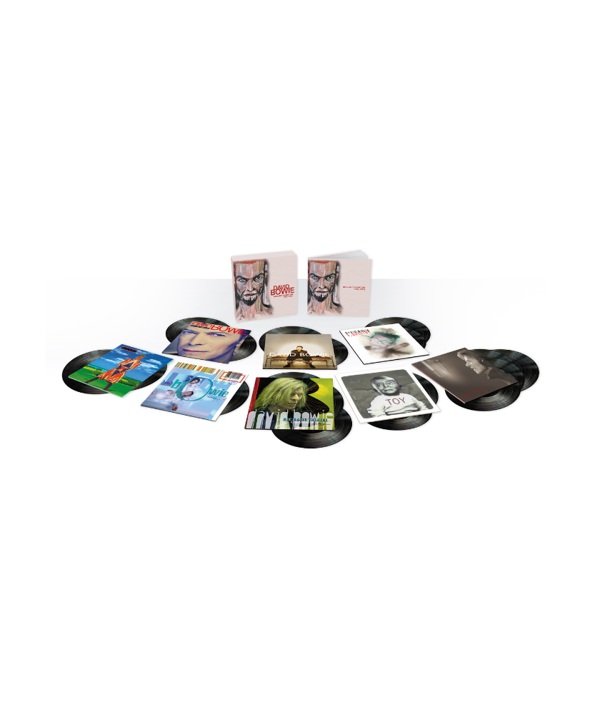 Brilliant Adventure (1992 – 2001) [18LP Vinyl Boxset]
Brilliant Adventure (1992 – 2001) [18LP Vinyl Boxset]
The latest in an award-winning and critically acclaimed series of box sets BRILLIANT ADVENTURE (1992 – 2001) is an 18 LP vinyl box set that includes newly remastered versions of some of Bowie's most underrated and experimental material: BLACK TIE WHITE NOISE, THE BUDDHA OF SUBURBIA, 1.OUTSIDE, EARTHLING and 'hours…' along with the expanded live album BBC RADIO THEATRE, LONDON, JUNE 27, 2000, the non-album / alternative version / B-sides and soundtrack music compilation RE:CALL 5 and the legendary previously unreleased album TOY.
TOY was recorded following David's triumphant Glastonbury 2000 performance. Bowie entered the studio with his band to record new interpretations of songs he'd first recorded from 1964-1971. Unfortunately, in 2001 the concept of the 'surprise drop' album release and the technology to support it were still quite a few years off, making it impossible to release.
Exclusive to the box set are BBC RADIO THEATRE, LONDON, JUNE 27, 2000 and RE:CALL 5. The former was recorded two days after the famous Glastonbury performance in front of 500 lucky fans at the BBC's art deco theatre in central London. RE:CALL 5 features 39 non-album / alternative version / b-sides and soundtrack songs over 4LP's.
The 84 page accompanying books will feature rarely seen and previously unpublished photos by photographers including Frank W. Ockenfels 3, Nick Knight, John Scarisbrick and Nina Schultz Terner and others, as well as memorabilia, technical notes about the albums from producers/engineers Brian Eno, Nile Rodgers, Reeves Gabrels and Mark Plati as well as a new an interview with THE BUDDHA OF SUBURBIA collaborator Erdal Kizilçay.