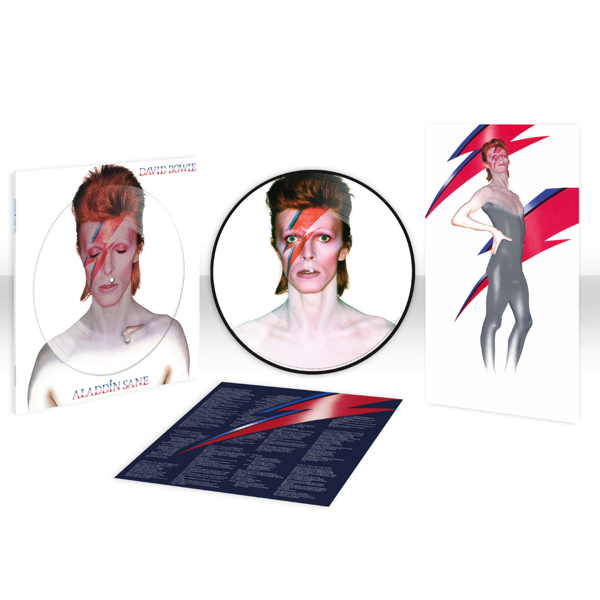 Aladdin Sane 50th Anniversary Picture Disc LP
DAVID BOWIE ALADDIN SANE 50th ANNIVERSARY PICTURE DISC LP
SPECIAL VINYL RELEASES TO CELEBRATE THE 50th ANNIVERSARY OF ALADDIN SANE TO BE RELEASED 14th APRIL, 2023
9th January, 2023 - April 2023 marks the 50th anniversary of the release of David Bowie's ALADDIN SANE, which was released only ten months after his breakthrough album THE RISE AND FALL OF ZIGGY STARDUST AND THE SPIDERS FROM MARS. The title track and songs such as 'Lady Grinning Soul' and 'Time' marked a significant musical progression from its predecessor, adding brass, woodwind, soulful backing vocals and the distinctive piano playing of Mike Garson.
On 14th April, 2023, one week before its Golden Jubilee ALADDIN SANE will be issued as a limited edition 50th anniversary half-speed mastered LP and a picture disc LP pressed from the same master.
The album was preceded by two singles 'The Jean Genie' and 'Drive-In Saturday', peaking in the U.K. singles chart at numbers 2 and 3 respectively, and was the first time he topped the U.K. album charts. It also marked his debut on the U.S. charts reaching the top 20 album chart there, where an edited version of 'Time' was released as a single.
The cover artwork has become one of the most famous sleeves of all time and was rumoured to be the most expensive produced up to that point. The cover photograph was taken by Brian Duffy, who would also shoot the sleeves for 1979's LODGER and 1980's SCARY MONSTERS (AND SUPER CREEPS) and features Bowie with the iconic red and blue lightning bolt make-up, an image which has now entered the planet's cultural lexicon.
This new pressing of ALADDIN SANE was cut on a customised late Neumann VMS80 lathe with fully recapped electronics from 192kHz restored masters of the original master tapes, with no additional processing on transfer. The half-speed was cut by John Webber at AIR Studios.
Bowie described ALADDIN SANE as 'Ziggy Goes To Washington: Ziggy under the influence of America'. The album was to be Ziggy Stardust's last stand, and the persona was laid to rest three months after the album's release in July 1973 at the infamous final show with the Spiders From Mars at London's Hammersmith Odeon.
DAVID BOWIE - ALADDIN SANE TRACKLISTING
SIDE ONE
Watch That Man – 4:30

Aladdin Sane (1913-1938-197?) – 5:06

Drive-In Saturday – 4:33

Panic In Detroit – 4:25

Cracked Actor – 3:01
SIDE TWO
Time – 5.15

The Prettiest Star – 3:31

Let's Spend The Night Together – 3:10

The Jean Genie – 4:07

Lady Grinning Soul – 3:45