Book Bundle
2 autobiographical books and 1 booklet of proverbs
This bundle also includes: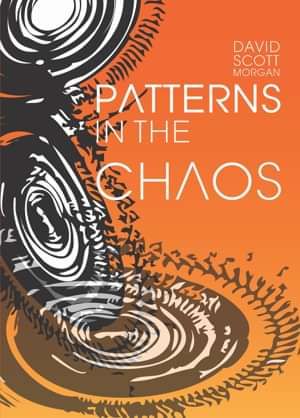 Patterns in the Chaos Autobiography
Dave's autobiographical book
Why write a book? Well, many people have expressed to me a curiosity about how I came to be involved in rock n roll groups - and then to become a Christian and run a church even. Yes, it's an odd story, and I hope one that will be interesting to those plucky enough to make the journey... But I have to admit I have done it for myself. Yes, I needed to see this stuff written down in black and white; to read about it and pinch myself at some of the things that have happened. I had to ask 'Was that really me?' You see I feel a bit like Pip in 'Great Expectations': I finally discovered the identity of my great benefactor and it wasn't a well-meaning old lady like Mrs Havisham. No not at all. And unlike the Charles Dickens story, it wasn't to be kept secret either. I have been so blessed - to have a wonderful mom, to be part of a famous rock n roll band, to fly aeroplanes, to be happy in marriage, to run a church. Yet for a long time, I thought the opposite, that I was more cursed than blessed! The fact is that once I began to see the truth, I could not un-see it! Like a pattern that emerges from the haphazardness of life, the hand of the Almighty began to draw a beautiful picture where once had been a mess of chaotic happenstance. It didn't happen all at once. I discovered it bit by bit. Yes my benefactor was the Lord Jesus and He has helped me all along. He has always been helping me and so I write this just to say that there is No One Else worth writing about. When you find out who your benefactor is, you can't help it - you just want to shout about it. I first called this book of mine 'Patterns of Chaos' but then I discovered that a Colin Kapp had written a science fiction novel in 1972 using the same title. So now it is the title of one of my songs. 'No One Else' is as accurate as my memory and scribbled diaries will permit and I must own up to having a lot of fun writing it. I have tried to be accurate about events and offer unconditional apologies if I have not been successful in that. I have also tried, wherever possible, to avoid revisiting some of the confrontational events where my recollection might be at variance with somebody else's. For that reason, I have left out talking about some situations simply because I am unable to tell it like I saw it without being uncharitable about somebody. I wanted above all to speak about the wonderful people I have known. The world is full of good as well as bad. There is plenty to go around and the bad does not need me to give it breathing space in my tent. To put it in other words, if you want to read the dirt on people, get somebody else's book!
*All the photos are from my personal collection unless otherwise credited. *
No One Else Lyrics
I found out what it's all about, I know it's true Jesus Christ has paid every price for me and you When I'm all alone and I think about it I cry When I understand that love is the reason why
I thank you for what you've done, for sending your only Son when every hope had gone
He was the only one to ever come and make the difference.
All my days I will stand amazed at what you've done To pay my debt no one else except God's only Son When I'm all alone and I think about it I cry When I get to think that love was the reason why
I thank you for what you've done, for sending your only Son when every hope had gone
He was the only one to ever come and make the difference
No one else Copyright 2012, David Scott-Morgan
Patterns in the chaos ... containing many great anecdotes of life in the rock 'n' roll arena, from the 'Brumbeat' beginnings of the 60s to the world famous Electric Light Orchestra. Becoming a born again Christian, visiting Romania, flying aeroplanes are some of the other fascinating topics covered. 'Patterns' has over 70 original photographs.
A gentle evangelistic tool for those interested in a niche of Birmingham music and culture from 50's to 2000.
This bundle also includes: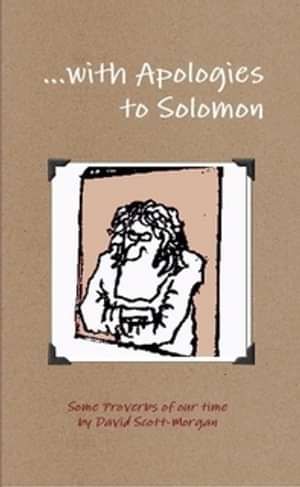 With Apologies to Solomon Cartoons
Dave's Illustrated Proverbs
A collection of Dave's modern day aphorisms, each one illustrated with one of his original cartoons.
This bundle also includes: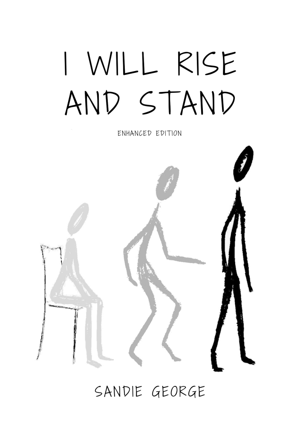 I Will Rise and Stand Book
Autobiography - Sandie George
This is a story of how like Adam of old, God took a common piece of clay, and breathed His Life into it. It's a feel good tale of a troubled soul finding peace. This is what happened to Sandie George.
On one level: an unassuming housewife from Birmingham, she takes you into the most secret places of her journey so that you can almost smell them. It's impossible not to relate to the situations of Sandie's real-life drama because it is so down to earth, making it all the more the cliff-hanger! This epic story leaves you feeling all kinds of things: hope, peace, thankfulness. A tour de force of writing for Twenty-First century believers and today's spiritual seekers.
Forewords by Pastor Dave Carr and Rev David Woodfield and cover accreditation by Jeff Lucas.
Reviews
Sara - 5/5 - One of the best books I have ever read- One of the best books I have ever read, it is touching, sad, inspiring, and wonderful. As a new Christian this book was a blessing to read so very personal and real. I could not put it down but was sad to finish the book. I would highly recommended any one to read this book as a Christian or non Christian you will enjoy a truly uplifting life story.
Debbie Dee - 5/5 - Great True Story Book - This Book is fabulous and when you start to read it you can't or won't want to stop till you finish it. You will laugh, then you will be crying, then laughing again. It's so funny in places and then very emotional, the author's life was filled with ups and downs, but God took all these seasons in her life and made a truly great read. I recommend this book to anyone who wants to go on a journey with a truly funny, witty Woman of God.....A must-read!
Gail - 5/5 - a wonderful book. It makes you laugh and it makes you cry. I recommend it to everyone, young and old, you will not be disappointed. Sandie is so loved by the many people she knows, read the book and understand why. FABULOUS!!!
Phil - 5/5 - Fantastic Autobiogaphy - Wow, what a fantastic read this book is. Brilliantly written. It'll make you laugh, It'll make you cry...I couldn't put this book down, I just couldn't wait to find out what happened in the end! I'd recommend this book to anyone and everyone. It will open the readers eye's to the supernatural power of God's love.
Ann - 5/5 - Loving Sandie! - This life story is a revealing story of a truly down to earth woman who found God after a lifetime of hurt and pain. Read it, laugh, cry and get to know Sandie. Looking forward to the next chapter.
Sue Jones - 5/5 - loved this true story! - I've read this twice now, I absolutely loved the book, really down too earth, full of laughs and some really sad moments!! With an amazing ending! A brilliant read !
Lottie - 5/5 - There's No Such Thing As Ordinary even if it often appears that way. That's Sandie's story. An honest, poignant account of a working class girl, growing up in post war Britain and her life journey since. Sandie's joys, sorrows, struggles, misses and triumphs are inspiring. Her humour and capers are entertaining. She's not risen to stardom and has often been overlooked in the crowd, but by living for something bigger than herself she's had anything but an ordinary life. This book will encourage anyone who identifies with being an average, ordinary person and also believes that their life has value and purpose.
Mike Moffat - 5/5 - To read an account of Sandie's challenging earlier life was both fascinating and enjoyable. A true Christian example of how not to give up in spite of many adversities.
Valerie Backhouse - 5/5 - Sandie's Story of all that has happened in her life touched my heart. This is a wonderful account, told in such an easy style, with incredible humility and honesty of life's many sufferings, forgiveness and amazing restoration. A story many people will read, understand and find great comfort, hope and peace from because they have gone through similar experiences. At the end I cried, it felt as though I had gone through this with her. I recommend as a 'Must' read, I have bought this book for many people ~ it has touched so many lives already. *