Documenting Germany: Part 2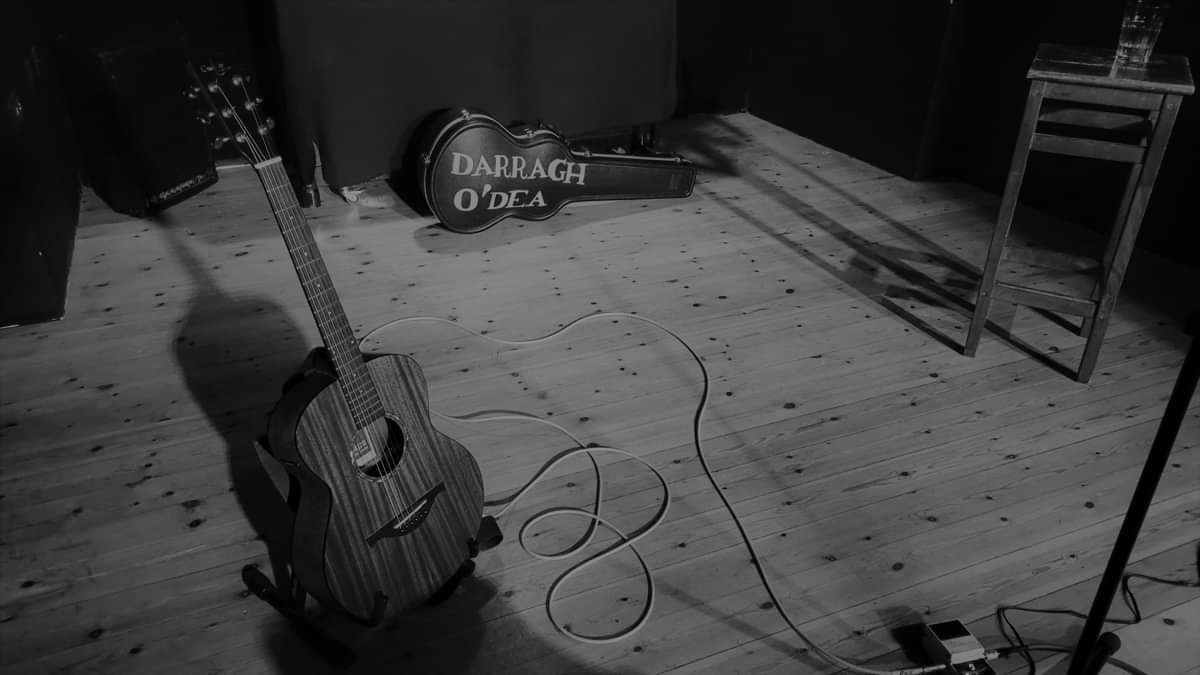 There's a couple of centimeters of snow on top of the car the next morning in Suhl, but the roads have cleared up. I don't hang around, I get back on the road, heading east to the capital, Berlin. Another 4-hour jaunt.
I think back to checking in my guitar for the initial Aer Lingus flight to Frankfurt, an extensive queue had built up as I joined the back of the line. Coincidently another man with an instrument strapped to his back stood next to me. I spark up a conversation and it turns out that he is Daoirí Farrell, a renowned bouzouki player and singer of traditional Irish music. A 20-minute music conversation ensues, he's a salt of the earth Dubliner who's heading out to Philadelphia to join Lúnasa for a few gigs on their current US tour. He has seen a lot of road with his bouzouki, and shares some war stories and advice from his travels through Germany.
I stick on his latest album in the car, "The Wedding Above In Glencree". His voice is ancient, pure, and true. He makes a fine job out of the Pecker Dunne song, "Sullivan's John" and there's a great one about a greyhound called, "Murphy's Running Dog". It's good company.
Traffic tightens up as I arrive in Berlin. Graffiti covered walls bring colour to the place, there's excitement and unpredictability in the Berlin air. Park up at my hotel, the closest one I could find to the venue, it's a little North of the city centre. A young woman checks me in, upon seeing my guitar she exclaims that she is a musician too – "well I'm a DJ mostly, everyone in Berlin is a DJ" she laughs. She's honest and tells me that she is feeling the effects of last night's antics with some DJ friends, where they were playing the best minimal house music into the small hours.
It's a bit of a walk to the venue with my equipment and records, so I book a taxi. My driver, Serat also spots the guitar and asks if he can borrow my ears. "Have a listen to this song I've produced and let me know what needs to be taken out or what it needs more of". Fair enough. It's a house/dance track that he has created on his iPad while sitting in his taxi waiting for calls. It's probably outside of my jurisdiction to know what's best for the song but I tell him to bring up the kick drum in the mix regardless.
Zimmer 16 is a small cabaret style room with a bar that holds about 60 seated. I'm introduced to 4 men who all seem to run the place together, it kind of feels like their own private social club, and they put on gigs as they arise. They are enjoying themselves and having a drink at the bar, a care-free and easy-going environment. The sound check is swift and painless, they all have been.
There's a little green room behind a curtain at the side of stage. Some last-minute rehearsing as I hear the murmurs of people start to trickle in. I stay put until it's time to walk on, mysterious. The lights are bright on stage and it's hard to see how many faces are in the crowd, but I reckon it's half full anyway. They are friendly and enthusiastic, and I find out that they are all locals who just saw the gig advertised and were curious. A woman named Celine tells me she's taken lots of pictures of the night and will send them onto me. I offer her an album as a thank you. She accepts.
The proprietors offer me Irish whiskey at the end of the night and want to talk about the movie, "The Guard" which I've not yet seen. The conversation moves to The Pogues and Flann O'Brien before they kindly ask me to come back and play again sometime. I walk back to the hotel to take in the vibrant, glowing, and noisy Berlin streets. The cool air is nice. Back to the nest, proud of my efforts.
A short spin to Dresden the next afternoon, specifically into the Neustadt part of the city where I'll be playing. It feels gritty and liberal. Lots of bars, cafes, and art galleries. I go walkabout for a bit. I'm playing at Mora Bar which is part of, and on the ground floor of a hostel where I will also be sleeping. The staff are young and friendly but mention that the hostel is quiet at this time of year and Sunday night gigs are not always the best attended by the locals either. It doesn't bother me, I'm in a mind frame that I'd happily play for them alone.
A few randomers come in and some off-duty hostel staff show their support, but it is quiet. I enjoy the set and try out a new song called, "You're A Dream", it stems from a little hook I was singing at a session in Junie's recently. Noelie McDonnell was present enough to hear something in it and egged me on to create something out of it. Noelie knows about writing songs, I trust his instincts. I think it's finished.
The staff invite me to join them at their table after for a drink. I've reached the half-way point of the tour, with a day off tomorrow I indulge in the dark lager. A New Zealander, a Canadian and a Dresden local make me feel like I'm part of the team at the hostel. The conversation is open and flowing, and the night rolls on, they fill me in on the Dresden techno scene and what kind of stamina it takes to survive it. I won't be dancing tonight; there's work to be done.
It's a 5 ½ hour drive North to Lübeck, not too far from the Danish border. I was initially thinking of breaking it up and stopping off somewhere for the night. Maybe Leipzig or Magdeburg, but no, I'll take on the challenge, it will be nice to wake up in Lübeck and have the day to explore before the gig. A couple of service station stops later, and I've arrived. I book into a hotel with a pool, I tell myself that I've earned it after my drive. There's a protest on the streets of Lübeck, I can't make out what for, but the cobblestone streets and red brick buildings are a sight to behold. It's a beautiful city.
A brightly coloured Indian restaurant spots me from across the road and beckons me over. I enter its portal, order the sabzi, and bask in its spicy pleasure.
To be continued…
Photo by Celine Lehmann