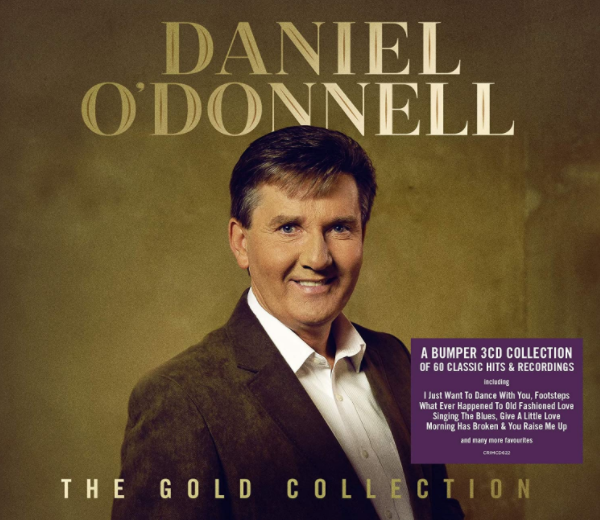 The Gold Collection 3CD Collection
The Gold Collection' is a 3CD/60-track set, and features recordings from across Daniel's entire recording career starting with 1985's album, 'Two Sides Of…'. The album features duets with his long-term singing partner Mary Duff, along with special duets recorded with Loretta Lynn and Charley Pride.
This is a stunning collection of all of Daniels Gold tracks, the hits and your all-time favourites over the years, on this GOLD 3 CD collection. Includes - Stand Beside Me, I Just Want To Dance With You, My Donegal Shore, and many more.
Disc: 1 1. Stand Beside Me 2. Pretty Little Girl From Omagh 3. Footsteps 4. I Just Want To Dance With You 5. Singing The Blues 6. I Need You 7. Whatever Happened To Old Fashioned Love 8. Hey, Good Lookin' 9. I Love You Because 10. Welcome To My World 11. A Little Peace 12. The Way Dreams Are 13. Give A Little Love 14. Tipperary Girl 15. Sunshine Love 16. My Donegal Shore 17. From A Jack To A King 18. I'm Going To Be A Country Boy Again 19. Our House Is A Home 20. Save Your Love (with Mary Duff)
Disc: 2 1. My Shoes Keep Walking Back To You 2. Top Of The World (with Mary Duff) 3. Can You Feel The Love 4. Daydream Believer 5. Crush On You 6. Bye Bye Love 7. Crystal Chandeliers (with Charley Pride) 8. Save The Last Dance For Me 9. The Magic Is There 10. Cryin' Time 11. I Wanna Be Free (with Loretta Lynn) 12. Don't Let Me Cross Over 13. Don't Forget To Remember 14. The Fields Of Athenry 15. Danny Boy 16. Home To Donegal 17. The Mountains Of Mourne 18. Timeless (with Mary Duff) 19. Wonderful Tonight 20. Wind Beneath My Wings
Disc: 3 1. Morning Has Broken 2. You Raise Me Up 3. Peace In The Valley 4. I Believe 5. Any Dream Will Do 6. Rhythm Of The Rain 7. Secret Love (with Mary Duff) 8. Edelweiss 9. You're The Only Good Thing (That's Happened To Me) 10. I Can't Stop Loving You 11. Maggie 12. Belfast 13. My Lovely Donegal 14. The Isle Of Innisfree 15. The Three Bells 16. An Irish Lullaby 17. Lady Of Knock 18. Rivers Of Babylon 19. Amazing Grace 20. How Great Thou Art
You can purchase this ultimate collection now, for just $25
OR, you can buy all three of these fantastic packs together, The Gold Collection, Songs of Faith & Hope & Praise which includes 7 CD & 2 DVD, for this one time only, special discounted offer price of just $60 at the store - just click on the link below!
Songs of Faith 2CD/DVD, Hope & Praise 2CD/DVD, The Gold Collection 3CD Bundle
Shipping & Handling extra. This Exclusive Offer is not available in stores