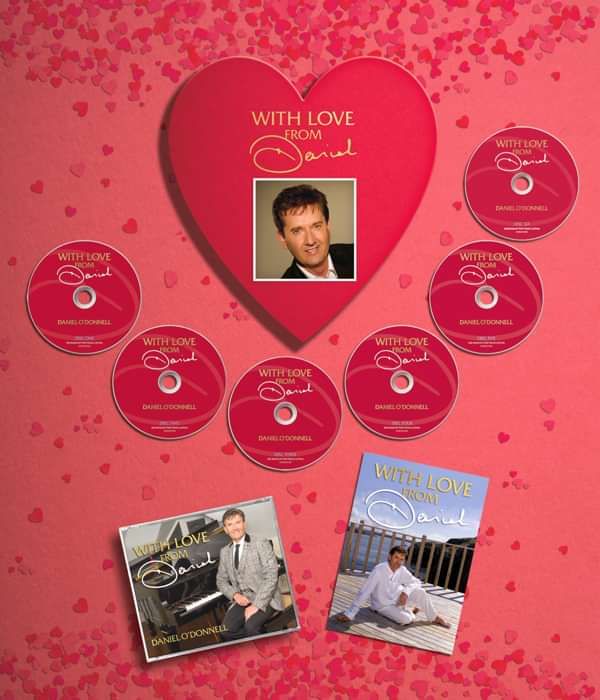 Love From Daniel - Special Limited Edition Heart Shaped Box with Signed Card
Heart Shaped Box - Limited Edition
This 6 disc set, 4 x CD's and 2 x DVD's, contain the highly requested "Back Home Again" and "Live from Nashville - Parts 1 & 2" concerts.
Along with a CD single of Daniel's recent Duet with David James "Don't Take the Good Times for Granted", plus a high-quality SIGNED picture card.
There are over 7 hours of wonderful entertainment in this very special heart-shaped box set. Classic Daniel O'Donnell at his VERY best. This is the perfect gift to show that very special someone just how much you love them.
CD1 Never Ending Song of Love | Back Home Again | The Galway Shawl | Why Don't You Love Me (Like You Used To) | Love Letters In The Sand | Pretty Little Girl From Omagh | Silver Threads and Golden Needles | Mr Noble | It Doesn't Matter Anymore | Just Someone I Used to Know | Things | The Mountains of Mourne | Irish Medley
CD2I Just Want to Dance With You | Memory Number One | The Boys from Killybegs | Song for the Mira | On The Eighth Day | HOld Onto Your Hat | You're Only Young Once | God's Plan | Cotton Fields Back Home | I Won't Be Home No More | There's A Blue Moon Over My World Without You | Me and Bobby McGee | Help Me Make It Through the Night | Home to Donegal | Stand Beside Me | Our House is a Home | Tipperary Girl | How Great Thou Art | Until The Next Time
DVD: Never Ending Song of Love | Back Home Again | The Galway Shawl | Why Don't You Love Me (Like You Used To) | Love Letters In The Sand | Pretty Little Girl From Omagh | Silver Threads and Golden Needles | Mr Noble | It Doesn't Matter Anymore | Just Someone I Used to Know | Things | Joke - Spire | The Mountains of Mourne | Hank Williams Medley | Irish Medley | Just Want to Dance With You | Memory Number One | The Boys from Killybegs | Song for the Mira | On The Eighth Day | Hold Onto Your Hat | You're Only Young Once | God's Plan | Cotton Fields Back Home | I Won't Be Home No More | There's A Blue Moon Over My World Without You | Me and Bobby McGee | Good Girls | You're My World | Help Me Make It Through the Night | Home to Donegal | Stand Beside Me | Our House is a Home | Tipperary Girl | Rock n Roll Medley | How Great Thou Art | Until The Next Time
Live From Nashville DVD Part One I'm Going To Be A Country Boy Again | Tennessee Waltz | Jambalaya (On The Bayou) | Release Me | Ring of Fire | Forty Shades of Green | Erin Tennessee | (Turn Out the Light) And Love Me Tonight | Making Believe | Turn Back the Years | Red Is The Rose | King of the Road | Could I Have This Dance | Eternal Love | I Love You Honey | Mother's Birthday Song | Gospel Medley: Peace In The Valley/The Church In The Wildwood/Just A Closer Walk With Thee/Praying/Someone Touched Me
Live From Nashville DVD Part Two Our House Is A Home | Green Green Grass To Bluegrass Medley: Isle of Hope, Danny Boy, Teetotallers Reel, Barndance REel, Temperance Reel | Little Cabin Home on the Hill | Your Cheatin' Heart | Isle of Hope | Tipperary Girl | He'll Have To Go | Crystal Chandeliers | Kiss An Angel Good Morning | Is Anybody Goin' To San Antone | White Rose of Athens | Jealous Heart | Say You Love Me | Heaven With You | Here At The Grande Ole Opry | He Stopped Loving Her Today | I Just Want to Dance With You | My Shoes Keep Walking Back To You | Stand Beside Me | Thank God I'm A Country Boy