AVALANCHE PARTY VINYL + CLUE RECORDS TOTE BAG [BUNDLE]
Buy a vinyl and have something to carry it round in...
This bundle also includes: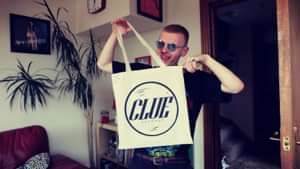 CLUE RECORDS TOTE BAG
A tote bag with our logo on it so not only can you carry home you're carrots, courgette + coca cola in complete comfort, you can also promote Clue to all them that look your way!
This bundle also includes:
AVALANCHE PARTY - MILLION DOLLAR MAN [VINYL - LTD EDITION]
A stunning transparent, coloured and hand numbered 7" vinyl with on-body etching.
Million Dollar Man is being released on a limited edition coloured transparent 7" vinyl.
Each copy comes with;
stunning etching on the body of the vinyl

a hand numbered sleeve

a download
This follows on from their last vinyl release 'Porcelain' which is completely sold out. This beautiful vinyl up is limited to 500 copies.