AVALANCHE PARTY MDM BUNDLE 1 [COLOURED VINYL + PSYCH T-SHIRT]
Plus a chance to win a vinyl test pressing
This bundle also includes: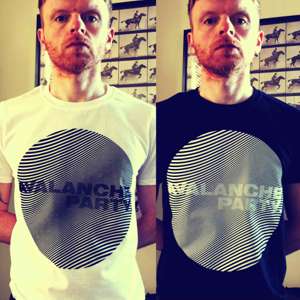 AVALANCHE PARTY PSYCH CIRCLE [T-SHIRT]
LIMITED RUN OF AP T-SHIRTS
AVALANCHE PARTY PSYCH LOGO T-SHIRTS AVAILABLE IN BLACK OR WHITE SIZES RANGE FROM SMALL, MEDIUM, LARGE, XL + XXL 100% COTTON GILDAN SOFTSTYLE
SCOTT IS WEARING A SMALL IN THESE PICS BUT HE'S ONLY A LITTLE UN. ALSO, PLEASE FORGIVE/MOCK/IGNORE THE 'JORDAN BELL LIVE SPECIAL' INSPIRED POINTY FINGERED PIC.
This bundle also includes:
AVALANCHE PARTY - MILLION DOLLAR MAN [VINYL - LTD EDITION]
A stunning transparent, coloured and hand numbered 7" vinyl with on-body etching.
Million Dollar Man is being released on a limited edition coloured transparent 7" vinyl.
Each copy comes with;
stunning etching on the body of the vinyl

a hand numbered sleeve

a download
This follows on from their last vinyl release 'Porcelain' which is completely sold out. This beautiful vinyl up is limited to 500 copies.