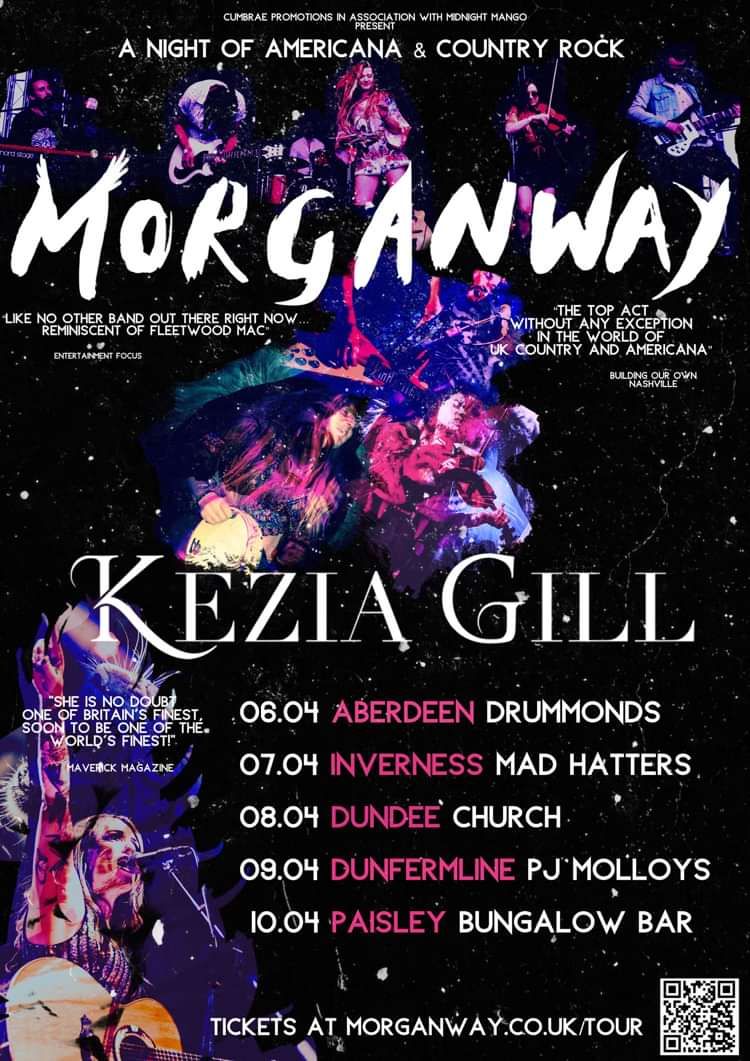 Morganway & Kezia Gill
£11
Entry Requirements: 14+
Buy Tickets
Morganway
Striking six-part harmonies, energetic rhythms, catchy songs and a fiercely formidable live act – Morganway have made quite the impression on the UK's rising Americana scene. Part country, part rock, with sprinklings of folk and something else entirely, it's not easy categorising the band's "delightfully unconventional sound" (Desperately Lost City). ​ Founded by twin brothers Callum and Kieran Morgan, the shared lead vocals of Callum and SJ Mortimer, along with the band's love of '70s west coast rock, has drawn comparisons to Fleetwood Mac. SJ's powerhouse voice is at the centre, part-angel, part-banshee, while Nicole Terry's stomping fiddle creates darker, folkier undercurrents coupled with Kieran's distinctive guitar sound. Matt Brocklehurst (keys) and 'Steady' Eddy (drums) complete the lineup.
"...a powerful creative force, with an inventiveness and vitality that is a sheer joy to behold." W21Music ​ 'I haven't heard folk-rock delivered as well as this since the golden heyday of Fairport, Trees, Eclection and Fotheringay... they leave latter-day Fleetwood Mac in the dust.' Just Listen To This
Kezia Gill
Multi-award-winning artist Kezia Gill has the song writing ability of a country artist, the stage energy of a rock star, and the voice of the blues. With an impressive vocal range, multi instrumental talent and pulling influences from a wide range of genres including Folk & Irish, Country, Rock and Blues, her sound is completely unique.
2021 has been an exciting year for Kezia, seeing her step out on stage as a festival headliner, achieving her first number one single and the release of a new EP that charted at number two which has been nominated for multiple awards. With the return of live music, she travelled all over the country to perform at multiple festivals and shows as she continues to build on her success and make up for the lost time of the pandemic.
Kezia will spend most of Autumn and Winter on the road as she opens for The Shires as on 14 of their Acoustic Tour dates and will also co-headline a string of dates throughout the UK with Jade Helliwell on their much anticipated 'Girl Country' tour.
Kezia is delighted to be announced as Special Guest of Morganway on their 2022 Tour of Scotland!
Admission: 14+ with adult