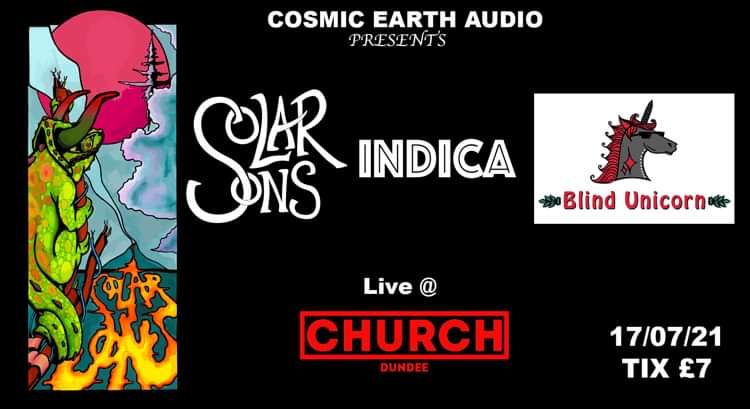 SOLAR SONS + Blind Unicorn + Indica
£7
Entry Requirements: Age: 18+
Buy Tickets
Cosmic Earth Audio are super excited to announce a live show! That's right...a GIG! In Dundee, at Church on Saturday 17th July 2021.
We have three awesome bands on the bill, playing on the night - Blind Unicorn, Indica and Solar Sons.
This show is a welcome back to gigs for loyal heavy music fans and friends in the Dundee area. It is capped capacity to 100, and it will be a seated gig (based on current restrictions).
There will be online ticket sales, 80 tickets available to buy before the show. So get in fast to secure yourself/friends/family a ticket to join us in a celebration and musical gathering!
Bands on the night - Blind Unicorn - A groovy and tight unit, with a powerful modern rock flavour, wide influences and a cool vibe. Great sounds, highly worth a watch! https://www.facebook.com/BlindUnicornBand
Indica - A remarkable trio who have a cult legendary status among those in the know in Dundee and beyond. One of our absolute favourite local bands, these guys have been putting on sensational shows for over 20 years. Not to be missed! https://www.facebook.com/Indica-Dundee-135325359854970
Solar Sons - Hot off the back of recent 4th album release, soaked in heavy rock/metal soundscapes and progressive interludes layered within the music. Fasten your seatbelts for a journey through the sounds of Solar Sons! https://www.facebook.com/solarsonsofficial/
Tickets available via this link - £7
The event will be from 7pm - 10.30pm, upholding current restrictions and it will be a seated event with a maximum capacity of 100. (80 tickets available)
Thanks, we really look forward to seeing you there!