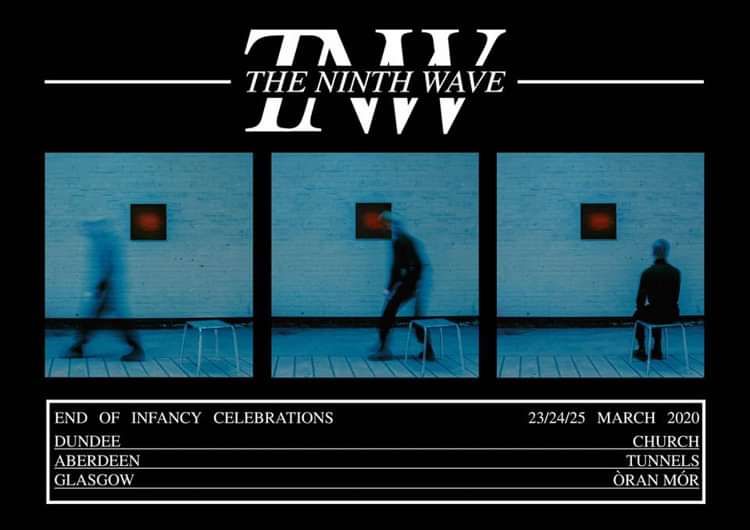 THE NINTH WAVE
Entry Requirements: 14 + Under 18s Accompanied by An Adult over 21 // No ID No Entry Please Drink Responsibly. // Drinkaware.co.uk
END OF INFANCY CELEBRATIONS. We missed out a few of our favourite places on our INFANCY tour, but lucky 4 u we're coming early next year to celebrate the release of our album 💖 We'll be playing Church Dundee Tunnels Aberdeen & Òran Mór next March and we are very fking excited.
14 + Under 18s Accompanied by An Adult over 21 // No ID No Entry Please Drink Responsibly. // Drinkaware.co.uk
CHURCH Dundee - 15 Ward Road - Dundee - DD1 1ND
Line Up
THE NINTH WAVE
The Ninth Wave are a noise pop four piece from Glasgow, taking their influences from 80's new wave and goth pop combining these with their unique creative input. Their strong pop melodies and guitar riffs with a prominent synth presence has created a huge buzz in the local music scene. Their sound was described by Tenement TV as "distinctive and absolutely thrilling" (2016) In the summer of 2016 the band were chosen to play T-Break stage at T in the park and were chosen to play at Electric fields festival over +300 other applicants who applied for their unsigned bands competition. Later on in the year The Ninth Wave received the award of 'Best Newcomer' at Scottish Alternative Music Awards.
The Ninth Wave were tipped as hot bands for the new year by Jim Gellatly in the Scottish Sun as his 10 for 2017 artists and Vic Galloway at BBC Radio Scotland as his 25 Scottish acts to watch in 2017. Their latest single 'Nothing Is Certain' was added to the Amazing Radio playlist shortly after its release. The Ninth Wave recently signed to Distiller Records and are working on their forthcoming EP, their next single is due for release in May, in the meantime catch them on tour with Blaenavon and Menace Beach.