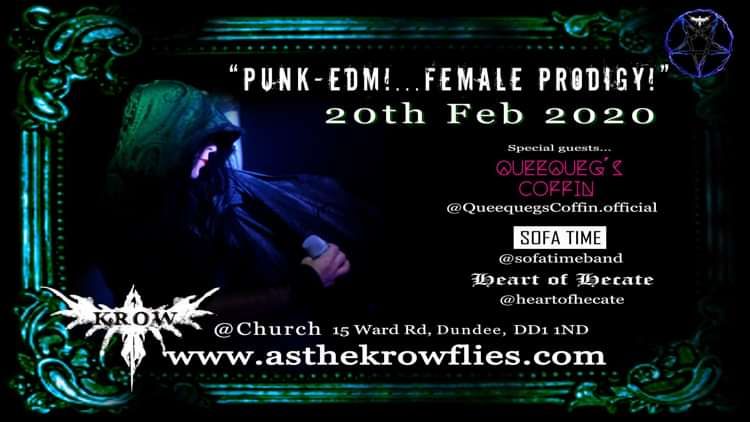 KROW
KROW
Free Entry
Entry Requirements: 14 + Under 18s Accompanied by An Adult over 21 // No ID No Entry Please Drink Responsibly. // Drinkaware.co.
Krow & The Electric Temple return to Dundee to perform their dark-edged, punk/edm!
FREE EVENT
SUPPORT FROM:
Queequegs Coffin
Heart of Hecate
Sofa Time
14 + Under 18s Accompanied by An Adult over 21 // No ID No Entry Please Drink Responsibly. // Drinkaware.co.uk
CHURCH Dundee - 15 Ward Road - Dundee - DD1 1ND
Line Up
KROW
'Electronica for devil worshippers' 'Extreme feminist sound porn' 'A 140bpm mind-flaying maelstrom'
Showcasing a unique fusion genre described as PUNK-EDM, Krow's music is making waves across the both the rock and electronic music scenes.
'Demon, I', Krow's 2018 release (on Boudicca Records) follows hot on the tails of 'Kromance', her 2016 album which debuted at PandoraFest, a music festival in Central Scotland. This brand new album takes no prisoners. Building on 140bpm beats and a fully choreographed stage show underlaid with brutal synthesizer licks, Krow's own compelling performance and rich rock-operatic vocal style perfectly completes the entire experience. Taking the UK Electronica music scene by storm, critically-acclaimed vocalist and pagan rave sensation Krow is the current incarnation of the headline-grabbing vocalist of UK rock outfit, Rockbitch.
She cites the likes of The Prodigy, Knife Party, Infected Mushroom, Tool and Skunk Anansie as influences behind this thrilling new style.
An immensely talented frontwoman in previous bands, Krow has been widely acclaimed in the press and has performed at renowned international festivals including Germany's Wacken Festival (where she headlined over Motörhead), Locomotive in Paris and De Melkweg in Amsterdam. In addition to this, Krow has also taken to the stage as a vocalist across the UK, Continental Europe, and the United States. Appearances on The Jonathan Ross Show, The Girlie Show and on a number of DVD releases stand as testament to her incredible skill.
2018 will bear witness to a whole new kind of Noise Terror, as Krow spreads her wings, performing at confirmed dates across Scotland and England, including at Whitby Goth Weekend to promote 'Demon, I'.