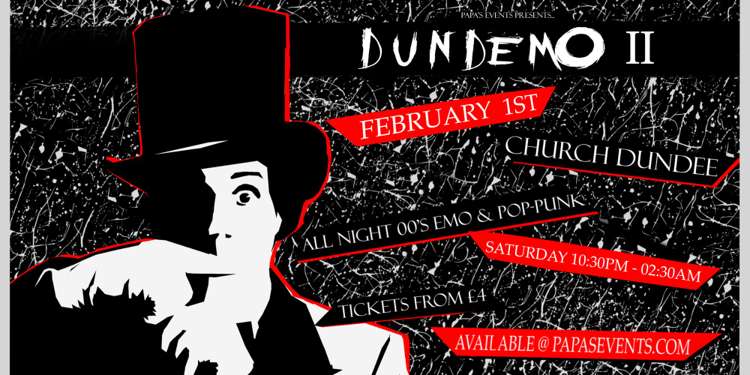 Dundemo 2
£4
Entry Requirements: 18+ No ID No Entry Please Drink Responsibly. // Drinkaware.co.uk
Buy Tickets
Never forget the music that made you... on February 1st we are TAKING BACK EMO!
Oh how it's been so long ,
We're so sorry we've been gone but just like MCR we'll carry on
Sorry Never forget the music that made you... on February the 1st we are TAKING BACK EMO!
We are stepping out into the black parade again so get your cons on and your hair straighteners ready and come with us on a journey through the 00's where we're celebrating of all things Emo.
The time of Bebo & Myspace, the battle of Emo vs. Scene kids, the era of bleeding hearts, fragile dispositions and all out teenage angst and apathy.
Remember those town-center meet ups and late night McDonalds, talking about who was hotter.. Patrick or Pete. The stress of downloading fake files on Limewire. Blasting Jimmy Eat World like every other loser and thinking that you're are unique and no-one understands your pain.
Tell all your friends... We are about to RIOT!
Expect to hear the likes of:
The Used/ Panic!/ Fall out Boy/ Coheed/ Enter Shikari/ Paramore/ MCR/ Blink/ All-American Rejects/ Taking Back Sunday/ Say Anything/ YMA6/ Slipknot/ The Academy Is/ System/ Cute is What We Aim For/ Weezer/ A Day to Remember/ The Blackout/ Alexisonfire/ Mayday Parade/ All Time Low/ Good Charlotte/ Rise Against/ Bowling For Soup/ Evanescene/ Lit/ New Found Glory... you get the idea.
CHURCH Dundee - 15 Ward Road - Dundee - DD1 1ND