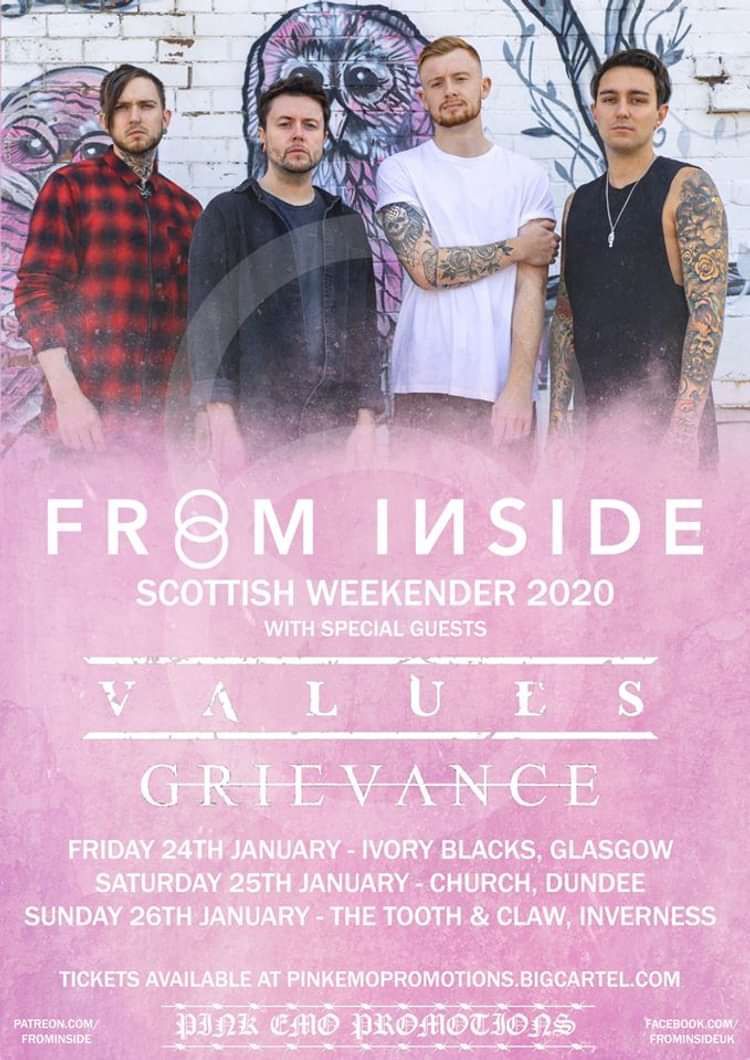 From Inside
£8
Entry Requirements: 14 + Under 18s Accompanied by An Adult over 21 // No ID No Entry Please Drink Responsibly. // Drinkaware.co.uk
Buy Tickets
Liverpool alt-metal stars From Inside play their debut Dundee show this January. Support comes from Special Guests Values and regional hellraisers Grievance and Immortal Omen
Drawing comparisons to Bring Me The Horizon and the earlier Linkin Park albums, FROM INSIDE have a sound driven by an atmospheric blend of distorted guitars and emotional lyrical content, layered over captivating orchestral synths. The band are defined by their vocally charged sound, with lyrics that address some of the more difficult aspects of life. The band launched at the start of 2017, releasing a music video for their debut single 'Find My Way' - which depicts the fictional story of how each member joined the band. Premiered via Kerrang! Radio to a great response, the track was followed almost immediately by the release of their debut EP 'The New Era' on Friday 13th January 2017. They have gone from strength to strength and 2018 saw the release of 'When I'm Breathing Without You'. To coincide with this release, the band released two singles 'Helpless' and 'Before I Leave' premiering on Kerrang!
FFO: Bring Me the Horizon, The Amity Affliction, The Word Alive: https://www.youtube.com/watch?v=JRkGJN4dRiU
Since releasing their debut EP 'Broken Nation' in 2016, Leeds' VALUES have toured relentlessly and proven that while for many new bands, the purpose of their debut EP is to find their feet on the ground and build a foundation, they've gone in with a message as 'Broken Nation' is a bold socially-driven commentary. The strength of their debut release earned them some huge opportunities, as 2017-2018 saw them share a stage In Hearts Wake, The Word Alive, Silent Screams, Martyr Defiled, Landscapes, Gideon, Loathe and more. The band released their second EP 'Recovery' on May 8th 2019, with already more than 150k streams and counting. Their recent success earned them a slot as main support for Ice Nine Kills where they gained an army of new fans, playing to hundreds of people each night at sold out shows across the country.
FFO: The Ghost Inside, Gideon, In Hearts Wake: https://www.youtube.com/watch?v=vWkFJjJmfjk
Additional support comes from:
Grievancee (Dundee: Metalcore, Deathcore)
FFO: Thy Art is Murder, Knocked Loose, The Devil Wears Prada: https://www.youtube.com/watch?v=Q839ajUnX1c
Immortal Omen (Dundee: Hard Rock, Heavy Metal)
FFO: Judas Priest, In This Moment, Alter Bridge: https://www.youtube.com/watch?v=6vwxyYbyBPQ
14 + Under 18s Accompanied by An Adult over 21 // No ID No Entry Please Drink Responsibly. // Drinkaware.co.uk
CHURCH Dundee - 15 Ward Road - Dundee - DD1 1ND