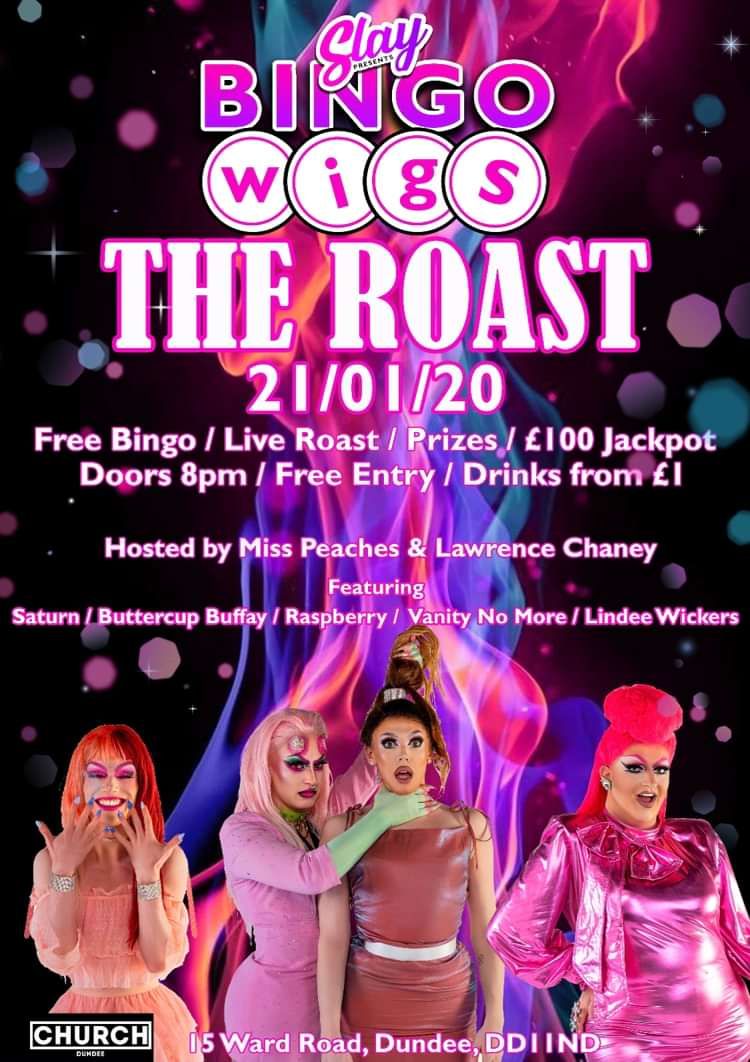 Bingo Wigs Dundee - The Roast Of Miss Peaches
Bingo Wigs
Free Entry
Entry Requirements: 14 + Under 18s Accompanied by An Adult over 21 // No ID No Entry Please Drink Responsibly. // Drinkaware.co.uk
To celebrate 1 Year of Miss Peaches becoming the full time Host Of Bingo Wigs Dundee, we are going to be having a Roast! We will have some familiar faces come and let Miss Peaches have it!
BINGO WIGS RETURNS with THE ROAST!
21st January 2020, 8pm at Church Dundee.
Catch Miss Peaches and Lawrence Chaney with your weekly bingo and then for the event we have all been waiting for - The Roast live on stage!
Featuring Saturn, Buttercup Buffay, Raspberry, Vanity No More & Lindee Wickers, this is a show not to be missed!
With a chance to win a jackpot of £100 or a game show prize, there's plenty of fun to be had from performances, lip syncs and not to mention some fabulous drinks promos!
Doors open at 8pm allowing you to arrive early to get the best seat in the house!
🍹 Drink Promos from £1!
FREE ENTRY! FREE SHOW!
Every Tuesday from 8PM @ Church, 15 Ward Road, Dundee!
14 + Under 18s Accompanied by An Adult over 21 // No ID No Entry Please Drink Responsibly. // Drinkaware.co.uk