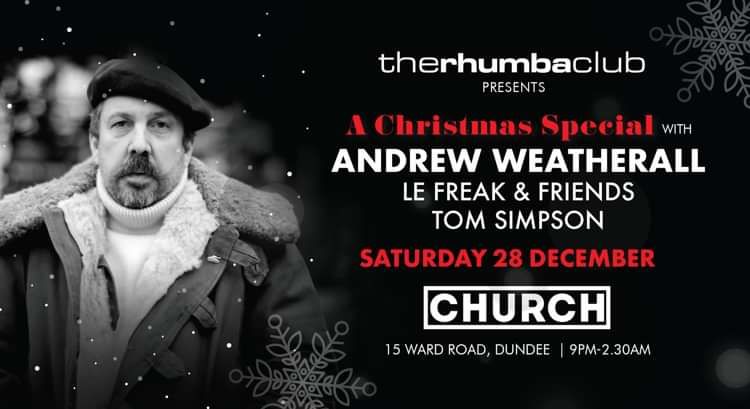 Rhumba Xmas Special with Andrew Weatherall
£16
Entry Requirements: 18+ No ID No Entry Please Drink Responsibly. // Drinkaware.co.uk
Buy Tickets
The Festive Season is nearly upon us, so its high time we let you into a wee secret…. The Rhumba are venturing out of Perth (for one night) for a wee jaunt to Dundee, to put on a rather special and cosy night for you Party People.
And The Rhumba Santa is being pretty nice to you, saving some rather fine gifts for this small Post-Xmas Party. In his goodie bag, he's bringing you….
Our headliner: We are bringing the one and only Andrew Weatherall to this fine festive occasion. We are sure you dance music connoisseurs out there will appreciate how good a late Xmas present that is gonna be! Supporting acts: the fantastic Le Freak and Friends and our own Tom Simpson. This makes for a bloody decent night, we are sure.
Our wee Xmas Party will take place at Church, Ward Road, Dundee and will kick off at 9pm.
Tickets are priced at a festive-friendly £16 (plus any applicable booking fee). Tickets will be limited as it's a small venue, so if you intend coming along it would be a smart idea to get one fairly quick. The ticket link is below:
https://rhumba-club.ticketlight.co.uk
We'll also get some tickets into the local shops etc (by Saturday) and post details of where to get them on this Event Page.
We hope to see as many of you there, have a cracking night and to toast the past year and look forward to what's to come in 2020.
Remember though, Rhumba is for life, not just for Christmas.
Rx
18+ No ID No Entry Please Drink Responsibly. // Drinkaware.co.uk
CHURCH Dundee - 15 Ward Road - Dundee - DD1 1ND