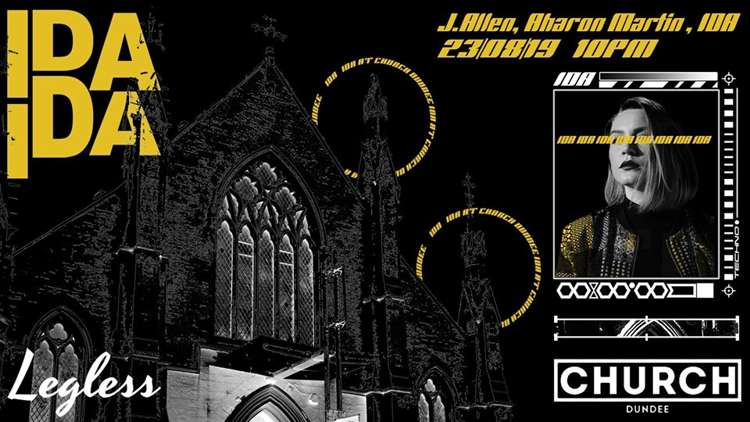 IDA
£5-£9
Entry Requirements: 18+
Buy Tickets
Legless Presents - IDA @ Church, Dundee
After insane performances at Riverside Festival, Maximum Pressure, TRNSMT, and Boiler Room in Ibiza, IDA is certainly worthy of her status as one of Scotlands most exciting Techno DJ's.
Along with the success of her ACID FLASH parties, IDA has been taking clubs and festivals by storm with her eclectic tastes and true passion for techno.
Residents J. Allen and Aharon Martin will be on the warm-up, with IDA taking control at 12:30AM.
Expect house from the off, and a killer techno set from IDA to wrap everything up.
Tickets can be purchased from Skiddle or on the door.
Venue -
Church, Dundee
15 Ward Road, DD1 1ND
Times -
23/08/19
10PM - 2:30AM
Tickets - http://skiddle.com/e/13579780
£5 - Earlybird £7 - First Release £8 - Second Release £9 - Final Release & Door sales
Poster Design -
Tanush Hysa - @design._th