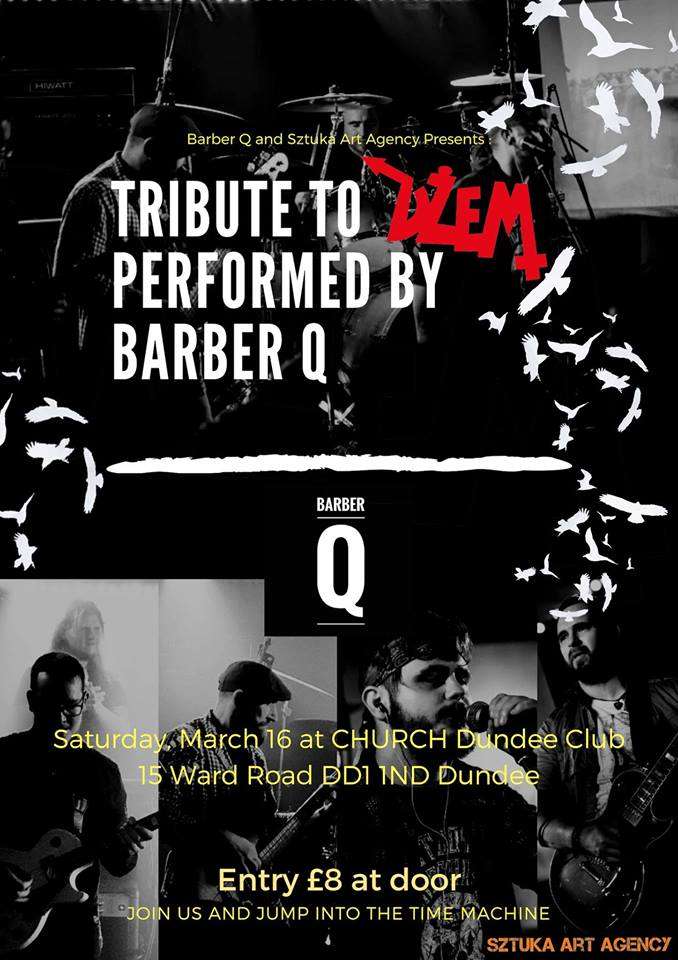 Tribute to DŻEM performed by Barber Q
£8
Entry Requirements: 18+
Buy Tickets
The Barber Q band & SZTUKA Art Agency proudly present a TRIBUTE to DZEM in Dundee
Dżem is a widely-known Polish blues-rock band established in 1973; the band's name comes from English word "jam" (as in, "jam session") which has nearly the same pronunciation as the Polish word "dżem", which means "jam" in the sense of a fruit preserve. Their songs have been sung over the years by at least two generations of fans and are still widely-loved by the public; their late lead singer, Ryszard Riedel had left his mark on the Polish rock scene and is considered a musical icon. Despite changes in lineup, DZEM remain hugely popular in Poland and are active to this day.
Barber Q is a rock cover band based in Aberdeen, with a special focus on funk and blues. They decided to bring DZEM's timeless tale to Scotland and introduce them to a completely new audience, in a show of music's universality and ability to break down barriers.
Tickets £8/person, available at the door and link below
---
Zespol Barber Q i SZTUKA Art Agency maja zaszczyt zaprosic Polonie z Dundee i okolic na Koncert "Tribute to DZEM"
Zespol DZEM i Ryszard Riedel sa znani publicznosci od 1973 roku. Cale pokolenia rosly na ich piosenkach, ktore okazaly sie byc uniwersalne i nieprzemijajace. Zespol Barber Q postanowil przypomniec mieszkancom Szkocji te polska legende sceny bluesowej. Bedzie to noc pelna dobrej muzyki, wspomnien i wzruszen.
Goraco zapraszamy!
Bilety w cenie £8/osobe, dostepne przy wejsciu w dniu koncertu oraz online-link ponizej.