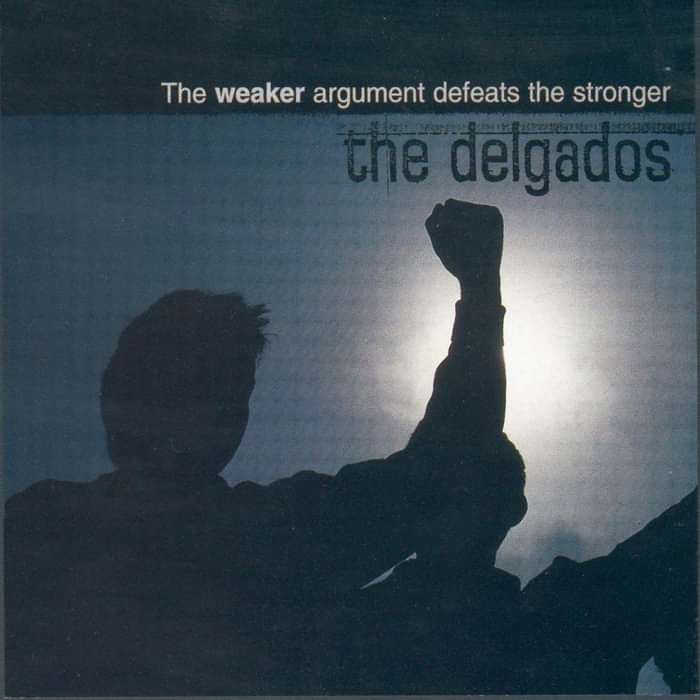 The Delgados - The Weaker Argument Defeats The Stronger - Digital Single (1998)
Original UK Release Date: 21st September 1998. Entire Single Download With Cover Art - 3 Tracks (320K bit rate; 37.1MB)
The Weaker Argument Defeats The Stronger
The Actress (Irian Jaya Remix)
The third and final single from Peloton, and completing a triumverate of long winded song titles, "The Weaker Argument Defeats The Stronger" deserves praise at the very least for containing the immortal line "I think you know, I'd like to go, cos all the ladies are stinking. Don't even try to beg." You'd never know Alun Woodward grew up in Motherwell would you?
This song contains an inordinately fruity flute line which Stewart defended by saying it reminded him of Burt Bacharach - Camille Mason played the part as a hostile witness, thinking it was shit: you decide. The song was the schizophrenic closer to Peloton and performed poorly in the shops, probably because most people who were into the band had already bought the album. No reason for the casual browser not to pick it up now though (ahem...)
The B-Sides feature a (curtailed) version of The Incredible String Band's "A Very Cellular Song" and an Irian Jaya remix of album track The Actress. Irian Jaya were two friends of the band called Dougie Summers and Chris Renwick who would go on to assist the band immeasurably with tracks on The Great Eastern.
Pointless piece of trivia: The cover photo on this single is not - as many people mistakenly assumed at the time - a shot of Stewart, but is in fact Motherwell legend Dougie Arnott, snapped on the top of a double decker bus while parading the recently won Scottish Cup back in 1991. Moan The Well.