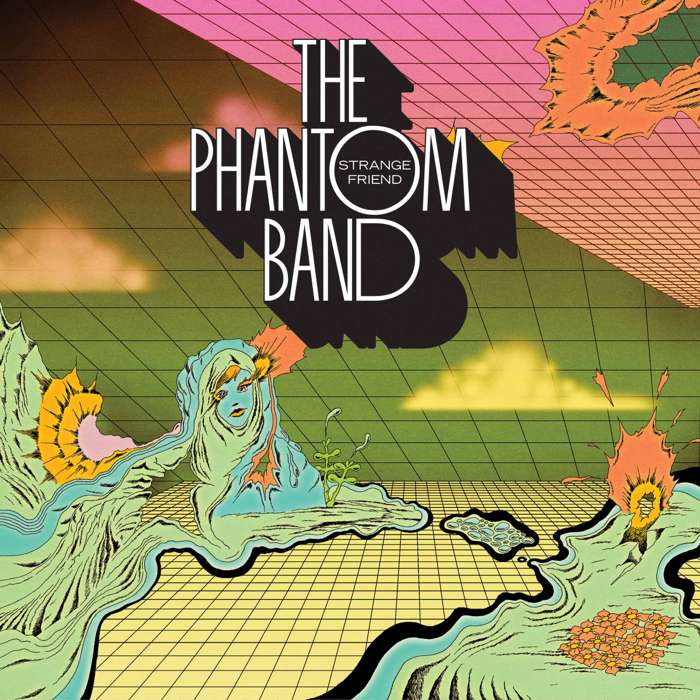 The Phantom Band - Strange Friend - Digital Album (2014)
UK Release Date: 30th May, 2014. Entire Album Download With Cover Art - 9 Tracks (320K bit rate; 108MB)
The Wind That Cried The World
Even the most adventurous alchemists return to their favoured base elements in the pursuit of maximum potency. So it was that The Phantom Band - those wilfully mercurial outriders who changed their name repeatedly, disbanded and reformed to wrong-foot potential followers before firing out two diverse albums of singular brilliance in Checkmate Savage (2009) and The Wants (2011) - reached album number three seeking a return to the first principles of performance that brought them together to begin with.
Strange Friend was, in vocalist Rick Anthony's words, borne out of "a desire to try and get back to that feeling of it just being a bunch of us in a room playing music together." It's an attempt to capture the six of them live: raw, rugged, perhaps looser, but still fit to burst with earworms and oddities from every nook and cranny.
Strange Friend doesn't have one firm concept at its root but several, infused with multiple meanings it reflects the constant percolation of voices within the Scottish six-piece, all jostling for their say. "It can indirectly refer to a lot of different things," says Anthony of the album's title. "Living in a world that's increasingly hyper-connected through the internet yet increasingly disconnected in terms of actual real human relationships. It could also refer to the band and our relationships to each other; our individual relationship to the band as a thing; our relationship to this particular album. It's like a strange friend that we can't quite shake. Or our relationship to music as a whole."
Yet musically Strange Friend is perhaps the most straight-up set of recordings the band have put to wax. Fans of their previous critically-acclaimed albums, fear not; those burbling, fluttering electronics that drag their sound through a wormhole and out into the 70's alongside the soundtracks of John Carpenter and the kosmische of Kraftwerk and Neu! remain; the elements of folk; the woozy organ sounds - most apparent on 'Clapshot' - that knock each song just off its centre enough to feel alien, but familiar enough not to feel lost, are still there.
"The seeds of the songs are the result of an initial collective aimlessness where we weren't worried about what was the music was going to sound like," says Duncan Marquiss. "It's about creating an environment where you increase your chances of having happy accidents. We agreed we wouldn't record until we were ready and that meant that anyone who was interested in the band wouldn't be hearing from us for a few years."
Strange Friend, like their previous outings, is the sound of six clearly distinct personalities attempting to inflict their will on the rest of the group - it's no surprise the phrase 'love/hate' is brought up repeatedly by all its members in an attempt to describe their relationship with the band as an entity - but it's that fission between each other's contributions that provides the intangible individuality of their music.
"Like all true utopias it can feel impossible to maintain," admits Marquiss. "But we'd have fallen apart long ago if any one band member took the reins, and that friction between people throws up music that no single person in the band would have imagined otherwise. I still hope our utopia will turn into whisky fountains and flying sandwiches."
It's something that you can't help but feel would be fully deserved for these most strange but wonderful returning friends