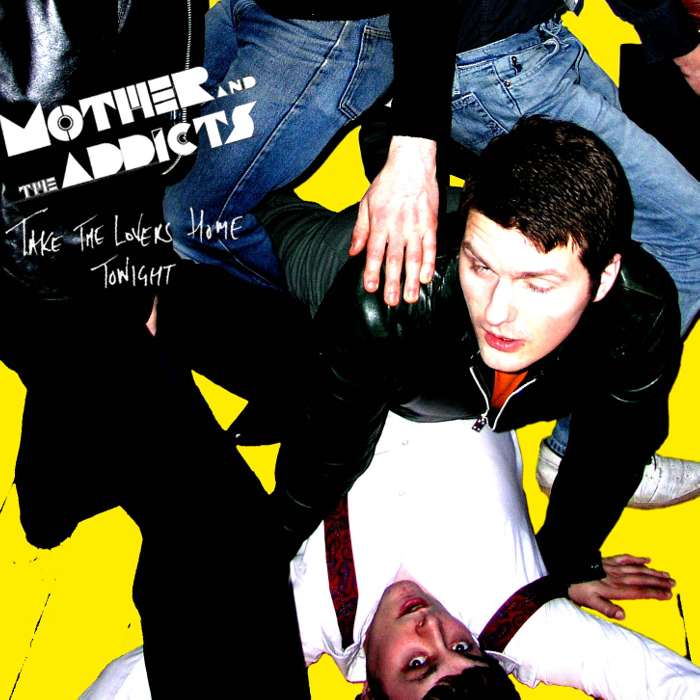 Mother And The Addicts - Take The Lovers Home Tonight - Digital Album (2005)
Original UK Release Date: 22nd August 2005. Entire Album Download With Cover Art - 12 Tracks (320K bit rate; 96.1MB)
Take The Lovers Home Tonight
Oh Yeah You Look Quite Nice
Don't You Know That You Love Her?
Even Time Will Destroy Me
We thought we'd ask Sam to provide some insight into the making of his demented debut...
"A multi layered insight into the turbulent existential wanderings of a man's formative years: a wrestle with God; a mind blown. Behind the raucous exterior a more subtle aesthetic points towards hidden realms, do not read what it says on the packet.
"Take the Lovers Home Tonight" was recorded during a mercilessly hot summer of 2005. After The Delgados eloped on a world tour, I was left alone to figure the delights of a 24track studio, most of the tracks being worked up from improvisations. Bass and drums being laid down first, a rough structure pencilled out then the music worked upon until songs began to form. Being my first foray into serious recording much of the time was spent trying to figure out how to get the sounds I wanted in order to weave a complexity and madness through seemingly dumb programme material like 'Fuck Me Mummy I feel Ugly' or 'Who Art You Girls?'
The sessions were marked by the relentless heat: sweat running down the mixing desk, in an environment not dissimilar to the Black Ark, minus supporting cast - hence the heady isolation and creative detachment experienced while making the album. Members of the group laid down their parts during occasional visits to make sure I was still operational. Eventually I did become a little unhinged during the process, taking three days to record the solo for 'who art you girls' and getting a nasty rash, so I made a run for the Orkney Islands and spent a couple of weeks taking the air. I eventually returned, finishing the record under the confused tutelage of Paul Savage as he caught me erasing mixes then denying I'd touched anything before throwing the faders and going, 'there you go, it's fine'.
Over all the result, I hope, will garner attention as the future rolls on, being an untypical product of its time and borne of a peculiar process. At the time it was also my two fingers at the commercial norm, with the name 'Mother and the Addicts' I thought, well it's not going to be as simple as it sounds, look beneath the layers. Overall, the album is very much a reflection of the energetic (if somewhat scatological) approach I had at the time to music making - trying to hold various worlds together with paper, string and glue - and at times, I hope, succeeding."
Mother Dec 2007