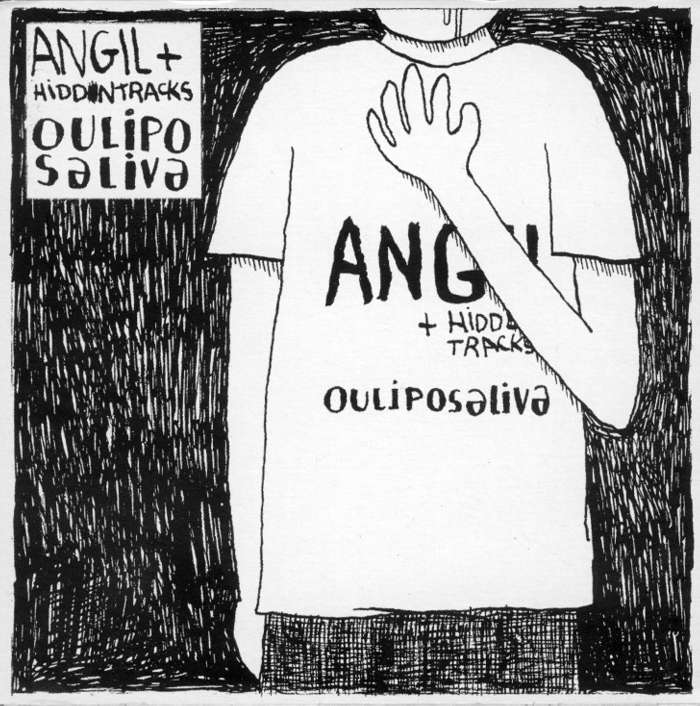 Angil + Hiddntracks - Oulipo Saliva - CD Album (2008)
Original UK Release Date: 26th November 2008
Oulipo Saliva? What the hell does that mean...?
Well, let's start with Georges Pérec. Pérec was an acclaimed French novelist who was part of the oulipo literary movement (a school of writing that operated within certain self-imposed constraints e.g.lipograms or palindromes) and his novel 'La Disparition' (translated to 'A Void' in English), which was written without the letter 'e', formed the inspiration for 'Oulipo Saliva'. "Sweet Jesus", we hear you exclaim: "...this all sounds a bit highbrow". Well, yes and no...
After a gig in Barcelona, Mickaël and his saxophonist Francis were discussing making an album that focussed on brass and woodwind instruments. Francis, being a man after our own hearts, said that would be fine but he didn't want anything written in the key of E because it's too hard for alto saxophones. Rather than scolding Francis for being a lazy bastard, Mickaël agreed and took the concept further by also excising the letter 'e' from the albums lyrics (hence Angil & Hiddntracks for the course of this campaign). You can read more about oulipo and the work of Georges Pérec by checking his wikipedia entry:
http://en.wikipedia.org/wiki/Georges_Perec
Anyway, 'Oulipo Saliva' was mostly written and recorded on an old piano dating from 1904, salvaged from a neighbouring clothes shop which was soon to close. With its, shall we say unconventional tuning, the album has an other-worldly, almost Tim Burton feel to some of its songs, enhanced further by the lack of electric guitars and the prevalence of brass and woodwind provided by the Hiddntracks. The finishing touches to the album, which comes in a digisleeve with a 16-page booklet, are provided by French graphic artist Guillaume Long (http://lon2g.free.fr/) who brilliantly illustrates the album artwork.
All in, 'Oulipo Saliva' is a unique and intelligent album that draws influences from leftfield and mainstream themes - it doesn't necessarily engage instantly, but then again, why should it? Music doesn't always have to be easy or straightforward and 'Oulipo Saliva' like many great albums, rewards repeated listens, offering up new ideas and touches with every successive visit.