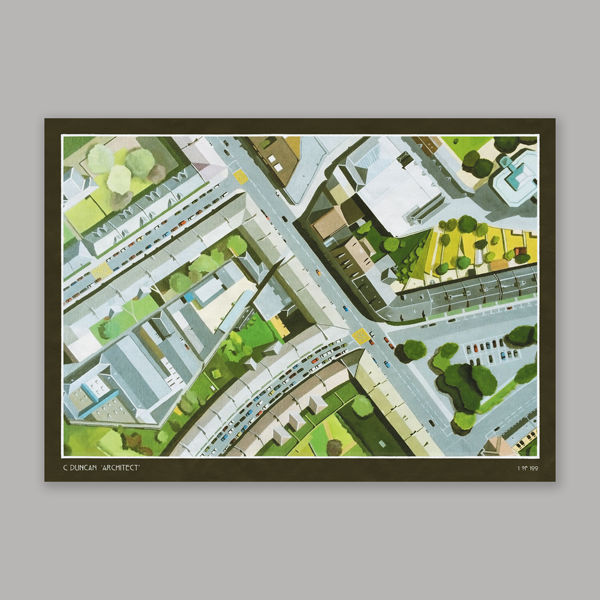 Limited edition signed A3 art print of album artwork + free digital download of LP
You will receive a high-quality A3 art print reproduction of C Duncan's painting from the 'Architect' cover artwork, printed on 250gm heavyweight paper stock with a silk finish.
There are only 100 of these available and each one will be individually numbered and signed by Chris so stock will be very limited!
With the print you will also receive a free digital download of the album.
"Hauntingly pretty, intricately arranged...Will blow you away with its awed atmosphere and reverential sense of rapture...Exquisite and unearthly." The Guardian (band of the week)
"Breezy and intricately arranged...a nimble piece of work that cascades around you like a mirage in a hot desert" Stereogum
"C Duncan takes the heartstring-tugging abilities of his label mates and wields them in harmony-laden, acoustic fashion" NME
$13.56
Select from options below to add to basket
This bundle also includes:

Architect - digital download

Architect showcases a huge breadth in Christopher's songwriting abilities. Lead singles 'Say' and 'For' are characterised by their gentleness and warmth, while 'Garden' (released as a single with the album) is bright, sunny, irrepressible. On the other side, 'By' and 'Novices' draw more overtly from Christopher's interest in electronic music and modern composition. He references The Knife and Arvo Pärt as willingly as Burt Bacharach and The Carpenters. Add to that shades of Talk Talk, Fleet Foxes, Grizzly Bear, The Ink Spots and the classical and choral compositions of Maurice Ravel and Gabriel Fauré, and a picture of the record collection that informs Christopher's music starts to become clear.

"Hauntingly pretty, intricately arranged...Will blow you away with its awed atmosphere and reverential sense of rapture...Exquisite and unearthly." The Guardian (band of the week)

"Breezy and intricately arranged...a nimble piece of work that cascades around you like a mirage in a hot desert" Stereogum

"C Duncan takes the heartstring-tugging abilities of his label mates and wields them in harmony-laden, acoustic fashion" NME

This bundle also includes:

Limited edition signed A3 art print of album artwork + free digital download of LP

You will receive a high-quality A3 art print reproduction of C Duncan's painting from the 'Architect' cover artwork, printed on 250gm heavyweight paper stock with a silk finish.

There are only 100 of these available and each one will be individually numbered and signed by Chris so stock will be very limited!

With the print you will also receive a free digital download of the album.

"Hauntingly pretty, intricately arranged...Will blow you away with its awed atmosphere and reverential sense of rapture...Exquisite and unearthly." The Guardian (band of the week)

"Breezy and intricately arranged...a nimble piece of work that cascades around you like a mirage in a hot desert" Stereogum

"C Duncan takes the heartstring-tugging abilities of his label mates and wields them in harmony-laden, acoustic fashion" NME