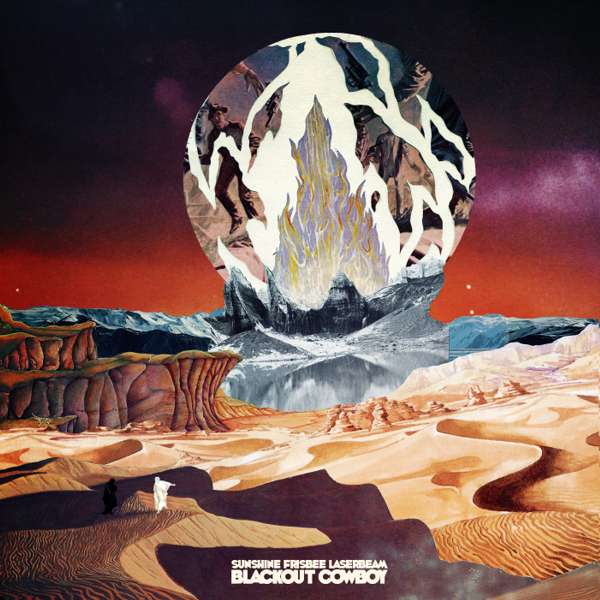 Sunshine Frisbee Laserbeam - Blackout Cowboy - 12" Vinyl Album
What of the bands that can't stop writing? How do you keep up? Like Bob Pollard and R. Stevie Moore before them, it's something that must just be there, in the blood. Over the last few years, Sunshine Frisbee Laserbeam have been putting out quality material at an alarming rate – 100+ songs, and if it wasn't for the day jobs, there'd have been far more – whilst never quite fitting in to any one pigeonhole long enough to be branded with a genre. So, where to start? Here. "Blackout Cowboy" is that record. It could as easily be their debut. A fresh slate from which to start from. A band with 100 songs distilling everything that makes them great down to just 8 new songs. Like a record from the 70's, succinct and compact, total confidence in the material.
Early lo-fi offerings in the form of two EPs, a self-titled album, and a Halloween single secured the then three-piece a regular spot on the Birmingham music scene, as well as frequent invites to towns and cities up and down the country. A couple of increases in headcount (most recently Junior Laidley on keyboards and percussion) and the purple patch writing sessions around "Blackout Cowboy" have allowed the band to move away from the lo-fi aesthetic they once adhered to, and are now able to work the same unique approach to songwriting into an ever expanding range of hooks, riffs and drones that fill any room they play.
Dark lyrical matter permeates throughout the record, as does black humour and the band's gift for melody. From the power-pop rush of opener "Running From A Ghost", through to the Malkmus-esque closer of "Mind Control", there's both variety and an almost endless slew of good ideas throughout. From the thick guitar tone that brings "All The Way Over The Edge" and "Blackout Cowboy" to life, to the melodic invention across "Blackout Cowboy" and "Meatloaf To The Camera", there's no let up across the record. And on "Mrs JR Hartley" the band even channel the neurotic energy of US college-rock, in contrast to that most English of references in the song title.
Some bands hit their stride a few records in, and some bands hit it out of the park entirely: this is Sunshine Frisbee Laserbeam making a strong claim for the latter.