5th Anniversary of the Abram Wilson Foundation
+ Nitin Sawhney + Madam + Rachel Cohen Quartet + Kokoroko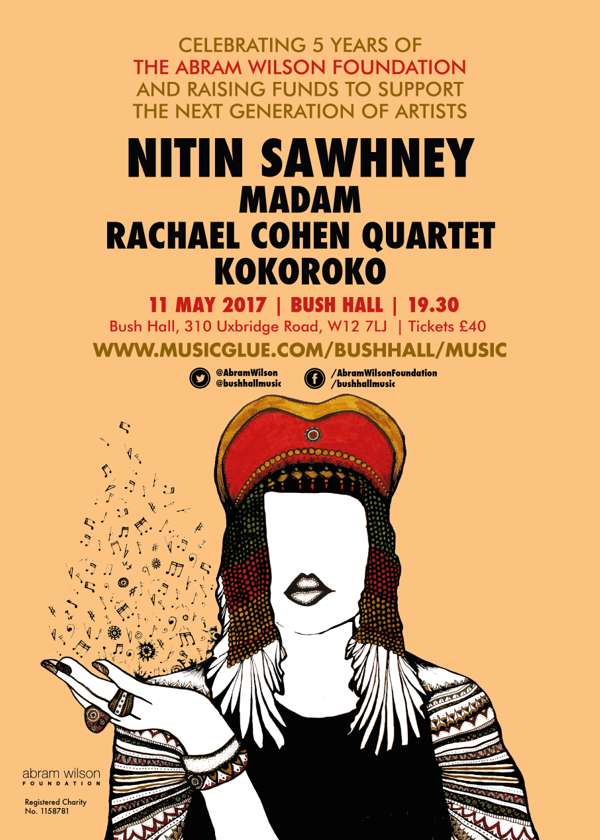 CELEBRATING 5 YEARS OF THE ABRAM WILSON FOUNDATION AND RAISING FUNDS TO SUPPORT THE NEXT GENERATION OF ARTISTS
Marking the 5th anniversary of the Abram Wilson Foundation, which helps young people achieve their greatness through music.
NITIN SAWHNEY + MADAM + RACHEL COHEN QUARTET + KOKOROKO
The Abram Wilson Foundation is back for its five year anniversary celebration on 11th May at Bush Hall. This year is set to be bigger and better as we bring together performances from some the most exciting up-and-coming musicians working in London at the moment. Our almost entirely female led line-up includes MADAM, the RACHEL COHEN QUARTET, and KOKOROKO. With a special guest performance from NITIN SAWHNEY.
Expect exceptional performances, a raffle, live auction and more! Funds raised on the night will go towards supporting the next generation of young artists.
"It would be easier to jot down what this man can't do than what he can." The Guardian on Nitin Sawhney
MADAM - 2016 Album of the Year - The Guardian and Penny Black Music
'(Rachael Cohen is)…a considerable compositional and instrumental talent.' LondonJazz
Twitter: @AbramWilson Facebook: /AbramWilsonFoundation Website: abramwilson.com
Abram Wilson Foundation for Creative Arts (Registered Charity No. 1158781)
Line Up
5th Anniversary of the Abram Wilson Foundation
Nitin Sawhney
Madam
Rachel Cohen Quartet
Kokoroko