123 Agency presents:
Tempus Sun
Tempus Sun + Marvel Music + Mister Mystics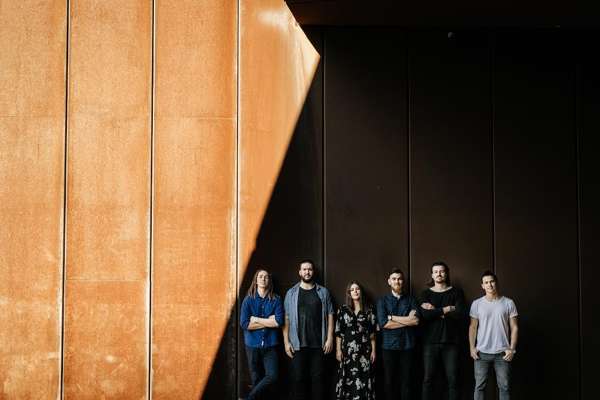 It's been a fast start for the colossal 6-piece from Melbourne, Tempus Sun. Having been thrust dynamically into the heart of the music industry in such a short period of time, a strong foot hold within is imminent.
Lead guitarist and band founder Ed Borromeo wasn't intending on forming a band when he gathered Andrew Wortes and Grant Hardisty to expand upon his musical imaginings. However before long, Wortes and Hardisty were to become lead vocalist and keyboardist respectively, and Borromeo's first imagining was to be born into the band's debut single, 'Owls'.
With the Wortes out sick for a show and the band struggling to find someone to match his caliber, vocalist Rya Park accepted the invitation and exceeded expectation. As Wortes returned to the mix for a show, both singers were added to the gig by miscommunication, but led to the birthing of an 'Of Monsters and Men'-esque dual lead vocalist element.
Rounding out the group is drummer Liam Purser and bassist Sean close. The many and varying influences of the group synthesize to create a monumental soundscape that emits positivity, depth and a rich warmth. Their own musical curiosity evident, TS also manage to engage a cross pollination of genres including rock, pop and indie.
"I think one of the most exciting things about Tempus, is the unique environment we find ourselves in with such diversity of input," states Hardisty. "I've studied Classical Piano, Liam's background stems from Metal and Sean from Jazz Fusion– and this barely scratches the surface. Whilst sessions can get heated, it's a fruitful environment that produces a unique blend of expressions in our tracks and ensures each decision is considered."
That concoction of traits can certainly be heard - and felt - in the magic that is 'Owls'. Winning the 'Listen Up Australia' competition in October 2016 over 300 applicants. The track explodes in harmonious euphoria, whilst highlighting the importance of speaking up about mental health. Tempus Sun is now honored to be official ambassadors of the charity organization.
Under a month later, they also took out first place in Bank of Melbourne's 'Melbourne Music Bank' over a further 600 artists and have since recorded their stunning debut EP with producer Tom Larkin of 'Studios in the City', set for release in mid August.
Tempus Sun's self-titled EP portrays a class and maturity that is hard to imagine of a group barely one year of age. They are testing conventional songwriting methods whilst exploring the boundaries of popular music.
Influenced by the likes of Mumford and Sons and Of Monsters and Men, TS pride themselves on the size, engagement and quality of their live shows without compromise. Wortes and Travis' unique lead vocal blend is powerful and honest, flourishing into emphatic 3 and 4-part harmony that brings an irrepressible smile to your face. Underpinning this is lush instrumental warmth that persuades you to be consumed in its explosive bliss.
With an ability to captivate their broad audience and envelop them in their vast sound, the delivery of their sophisticated lyrics and harmony allows listeners to relate Tempus Sun's songs to their own lives. For here is a band that writes from the heart – impassioned lyrics and expressive songs.
Asked about the journey so far, Borromeo reflects with a wry grin.
'I think sometimes it is a balance of hunger and patience. Chase the right people and you will find them, be persistent, but also be patient. Finding people to write music with – and who share your vision – is a rare occurrence, but a powerful one. Our initial vision has definitely evolved and changed with our experiences of the last 6 months, but I think that's what makes this all so exciting. We are discovering our fingerprint and sound as we go - and we want to go as far as possible.'
Coming off the back of a spot at Beyond the Valley 2016/17, an appearance at Hamer Hall and packed shows across many iconic Melbourne venues including The Evelyn and The Toff your access to a live show is easy. Securing 'Uplaod of the week' slot on MTV Aus n NZ (10-17 july), Slots on Rage, serious national radio coverage you are sure to encounter TS on the airwaves as well.
Set for an east coast tour of Australia in late August/early September in all major cities Tempus Sun are set to showcase there live power through their debut self-titled EP is set for release on August 4th
"Tempus Sun are a very promising young talent whose songwriting is mature and honest, and I'm excited to see their rise over the coming years" - LANKS
Set times to follow, tickets will be $15.00 on the door if available
Line Up
Tempus Sun
Marvel Music
Mister Mystics