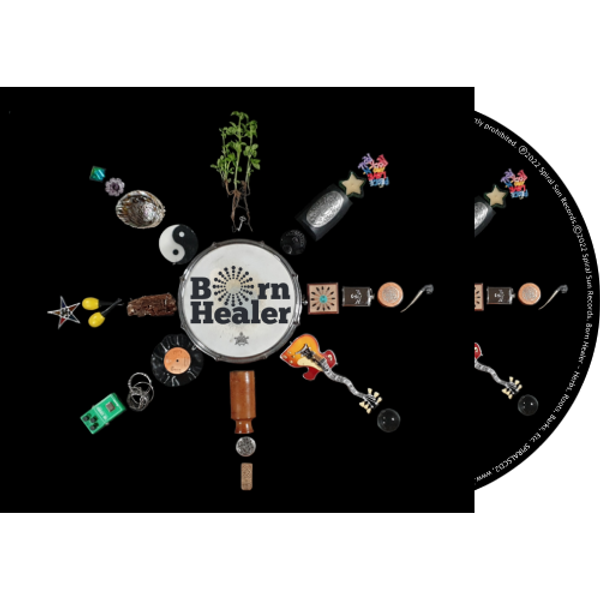 Born Healer - Herbs, Roots, Barks, Etc. (CD, 2022) - NEW ALBUM!
First new album from Helen Turner, Iain Black and Marek Funkas since 2016's 'Til The Dawn, and now featuring Steve Weaver on drums.
Ten essential songs - soulful, heavy, groovy, bluesy, rockin'!
New recordings of singles Forgot to Forget and Heavy Rumble/Old Father Time, a vibrant re-work of River, plus six brand new original tracks.
"Born Healer return with a release of distinction rooted in blues. Lead singer Helen Turner has a wonderful bluesy soul-toned voice", Blues Matters (full review below...)
"Born Healer has come out with a special second release, a winner all the way", Blues In Britain (full review below...)
Forgot to Forget
Grievin'
New Moon Rising
One of These Days
Old Father Time
Share of Trouble
These Blues
Wherever You May Be
Heavy Rumble
River '22
Six years after their highly acclaimed Til the Dawn, Born Healer return with a release of distinction rooted in blues. Lead singer Helen Turner has a wonderful bluesy soul toned voice adding that special feel to this tight band. Rhythm section of Marek Funkas on bass and Steve Weaver on drums and guitarist Iain Black make up a powerful back up. Forgot To Forget is the opener, a rocky blues number with soaring guitar licks mingling with sublime vocals. Grievin', slows the tempo and has real live feel to it, loving the harmonies. New Moon Rising is a slow burner, sultry vocals here with driving beat. A highlight is, One Of These Days which is a multi-layered tune full of passion and riff laden; again, it accentuates the rhythm section, and the vocals are superb, well produced. Old Father Time is a rocky number a sure-fire crowd pleaser. Share Of Trouble really shows the singer's vocal range without overegging things, a slower melodic tune. Another highlight is, These Blues which has great tempo and sung with passion, a real feel for the song, another testimony to a good band. Wherever You May Be, is an ethereal tune that builds momentum and drive. Heavy Rumble opens with a resounding bass line then the band join in, and it is no holds barred, punchy powerful track. River '22 is the final tune, mixes rocky tones with excellent harmonies and a catchy chorus. Colin Campbell, Blues Matters
Since 2015, this four-piece has been drawing attention wherever they've played and with album number two they're about to draw more fans to their music. They really know how to rock with their soulful, heavy groove, blues rock, and the band has strengths in every department: Marek Funkas (bass) and Steve Weaver (drums) laying down rhythms for Iain Black's guitar and Helen Turner's vocals. The fabulous opening track Forgot To Forget is pure Zeppelin, with Helen's mighty soul voice fronting things. Grievin is more laid back, featuring some nice guitar tones and ideas. The album is certainly full of original songs, but they vary things to make each track a differing listening experience. Some songs open with drums, others with rhythmic bass, many with enough guitar riffs to keep any axe head happy, the funky-laced Wherever You May Be and the easy, shuffle pace of the "train a rolling" closer River 22 showing that Turner can deliver soul or rock in equal measure. This is not just an album that brings the vocalist to the fore throughout, but the band get some nice extended openings too, that build the songs as they go along. The debut album a couple so years back was just fine, but this time Born Healer has come out with a special second release, a winner all the way. Pete Clack, Blues In Britain
Herbs, Roots, Barks, Etc. In simplest terms, it's a blues-rock album, or even classic rock, though within that there is a lot going on. There are uptempo, groovy rock tunes you can dance to, and there are soulful blues you can drift away on. And there's much more in between. It's a dynamic and emotional album, with space and lots of really great hooks. The songs are well written, with thoughtful lyrics and great arrangements. The guitars are heavy, the solos will carry you away, and the bass and rhythms will get you up off your feet. And on top of all that, sealing the deal, some of the very best female, rockin', bluesy, heartfelt vocals around. PowerPlay Rock & Metal Magazine
Herbs, Roots, Barks, Etc. Between the multi-faceted genres of Rock and Blues there are a hell of a lot of very good bands plying their trade. So much so that it is difficult for a band or artist to really stand out from the rest. One of the bands that does stand out – for many good reasons – is Born Healer. Classic Soul tinged Blues with a rocky edge and fronted by Helen Turner whose vocals – to my ear – sit somewhere between Lydia Pense and Maggie Bell. Lead guitar is from Iain Black and Marek Funkas lays down the bass. Newcomer Steve Weaver adds drums and percussion. Their last album Til The Dawn was released 6 years back and while they have been busy playing live, it feels as though they have waited a long time to release this set. Mind, it also feels worth the wait to me, the 10 songs here are great. There are 6 new originals here as well as re-recordings of tracks they previously issued - Forgot To Forget and Heavy Rumble/Old Father Time and River - and from the outset they are funky, rocking and Turner's vocals are all that you could wish for – full of soul and a cackling sassiness. The whole album smacks of a band who enjoy the music they are playing and it has a 'live' feel to it. There is plenty of attention to detail but it doesn't sound as though it's over-produced and the playing has that certain looseness that can make good rock sing. Standout track is probably the mammoth One Of These Days, heavy and powerful with a great riff and Turner's vocals down in the mix so that she is as much an instrument as a voice. Black's guitar solo is on the very edge of breaking up and the rhythm section creates a dark and portentous groove for the track to sit in. Very well worth a listen, one of the class acts around at the moment. 4/5. Andy Snipper, Music-News.com