The new EP MEDUSA is now available to download here! I'm so excited to share this with you, this has some of my favourite songs that I've ever written on it. I'm releasing the EP together with an immersive show debuting at Union Chapel, London on 31st October 2018. Get your tickets for the show here: https://www.unionchapel.org.uk/event/31-10-18-medusa-the-transformation/
Here's the details of Boe's previous EP - A Female Power...
A Female Power is the name of Boe's debut EP, an earthy, epic debut reminiscent of both Kate Bush and Bjork. The EP tells the stories of four female deities. 'We've been deprived of certain ways of seeing woman,' writes Boe, 'this EP is an exploration of the darker, more unexplored aspects.'
Produced by Boe, with additional production and mixing by Neeta Sarl, the EP is an entirely woman made thing. Brought to life by Aletta Dina on drums and Melanie Powell on synths and electronics, Boe fronts the band with her raw, ethereal vocal and electric guitar.
Boe performed the EP live for the first time at Union Chapel, voted London's favourite venue in Time Out, on 28th January 2018. The gig is part of an artist in residency where Boe brings the world of the EP to life through an immersive audio-visual theatrical show.
Previously Boe has been performing solo as an acoustic artist, playing live on Bob Harris' BBC Radio 2 show, as well as being featured in The Guardian and The Independent, and appearing on Charlie Brooker's BBC 4 programme Gameswipe. She now brings her craft of songwriting to a grittier, more visceral sound.
Every now and then a true artist arrives unapologetically on the world stage. Boe Huntress is one of those.
If you're interested in Boe's instrumental or acoustic music, please email boehuntress@gmail.com for more details on how to get your hands on it.
Patron:
You now have the opportunity to become a patron of Boe's work. She'll be writing a song every month, which you'll have exclusive access to. This means Boe will be able to keep creating. For more info go to www.patreon.com/boehuntress.
For all enquiries contact: boehuntress@gmail.com
PLEASE SIGN-UP TO THE MAILING LIST:
By signing up you agree to receive news and offers from Boe Huntress. You can unsubscribe at any time. For more details see the privacy policy.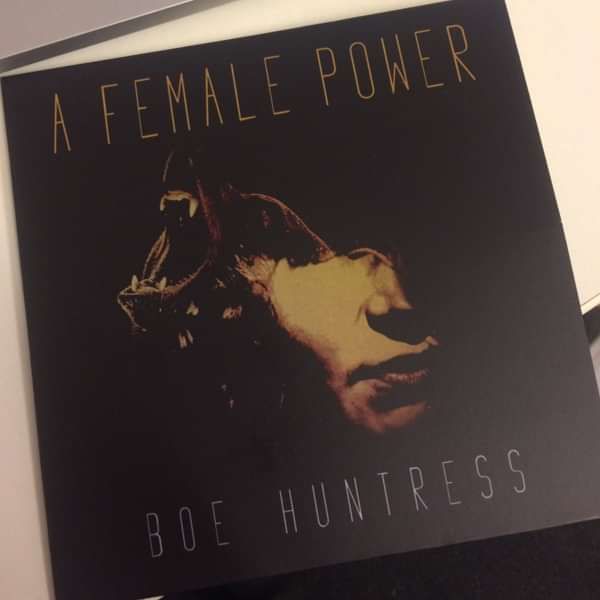 A FEMALE POWER EP ON CD
$6.93