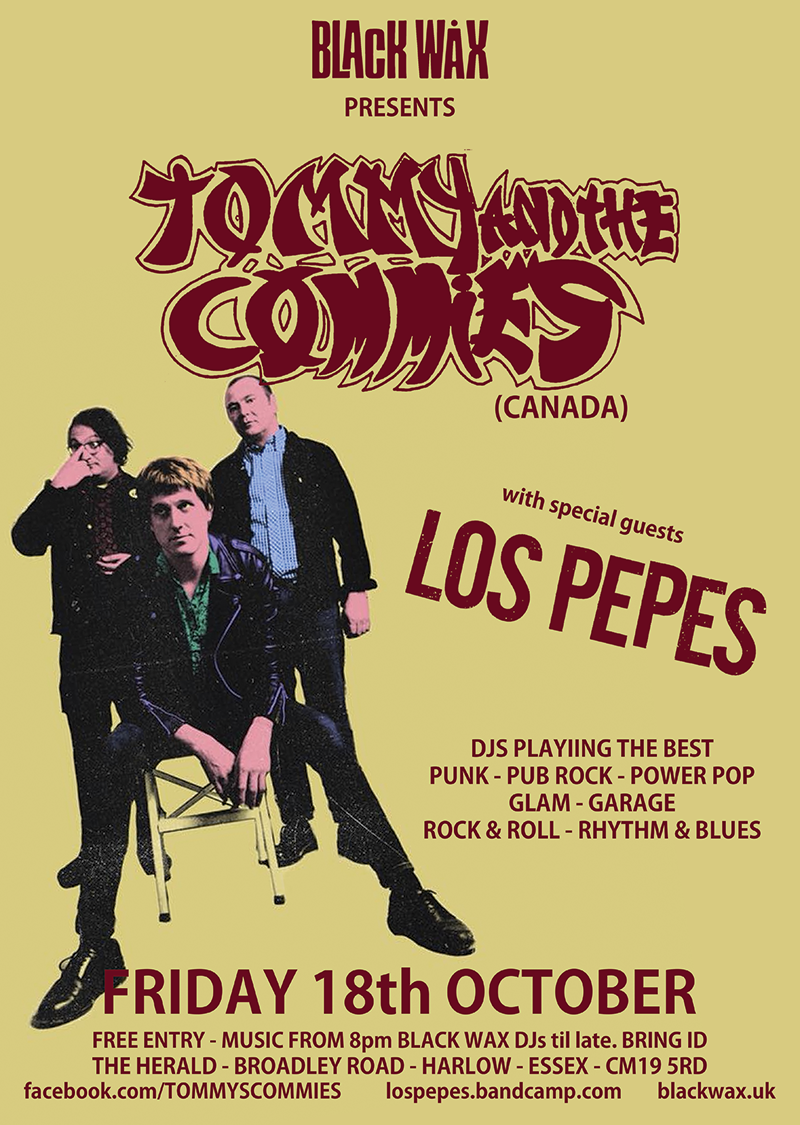 Black Wax presents:
Tommy and the Commies
+ Los Pepes
Black Wax returns to The Herald!
This time we're chuffed to be putting on Canada's finest hooligan pop mod-punk band Tommy and the Commies!
With support from the loudest power pop band on earth - Los Pepes!
DJs spinning rock & roll vinyl before, between and after the bands.
FREE ENTRY!
From swingin' Sudbury, Ontario, CA (nada), here come TOMMY and the COMMIES with their debut recordings for Slovenly Recordings, Here come Tommy and the Commies! "Here Come…" is 16 blistering minutes of hooliganistic mod-punk madness featuring Jeff Houle, also known as the sole brain behind budget rock cult faves STRANGE ATTRACTOR, and his brother Mitch, known ⅔ collectively as the power-pop force STATUES of P. Trash Records fame.
Swagger drenched youngster frontman Tommy Commy recruited Strange Jeff by dragging him into a bathroom stall during a punk show, playing him an inaudible demo on a phone. The Houle Two agreed to join forces for Tommy's first foray into the world of record making on the strength of giving "Spiral Scratch" era Howard Devoto a run for his dosh on the vox on any given holiday. This kid has GOT IT, BABY!
In a perfect modern world, songs like "Devices," and "Suckin' In Your 20's" would be massive chart smashes on the level of "Teenage Kicks." Those days are long gone, but here we are in 2019, giving YOU what you need, and what THEY don't deserve.
Line Up
Los Pepes – The loudest powerpop band on earth…the Motörhead of powerpop! No hit wonder 60s and 70s garage pop melodies drowning in a wall of punk rock guitar. Good Vibrations records served up with a Testors punch in the face. Songs about love, antipathy and getting up to no good. They'll stick in your head and leave your ears ringing. Cutting out a reputation for being a relentless high-energy punk rock whirlwind live, Los Pepes have also left a bunch of 7"s and three LPs in their wake - "For Everyone" - 2014 "All Over Now" - 2016 and "Let's Go!" - 2017 all via Wanda Records. Formed in London by Ben Perrier some years back, Los Pepes is an international organisation. Made up of a strange bunch of misfits from the four corners of the world, from the UK to Japan to Brazil to Poland. Born thousands of miles apart but all with the shared experience of growing up hooked on punk and not giving a fuck, Los Pepes is living proof that rock and roll is a global force of nature. So, if you too like rock and roll, get with it and join Los Pepes whenever they hit town. You need it!